What Makes Anyone Think This Rally Won't Get Sold?: Taking Stock
(Bloomberg) -- It happened yesterday when the S&P 500 had a 53-handle peak-to-trough reversal. It happened Monday when a flattish open gave way within minutes to a 55-point pullback that came close to tarnishing any hopes for a bottoming process. And we saw a similar move last Friday with an 86-point drubbing that wore on throughout the entire session.
Every rally seems to be getting sold almost immediately, which is a pretty clear sign of a tape that's lacking any conviction, and any real buyers.
There's no reason to think that today will be any different. The e-minis are up almost 20 handles on news that Huawei CFO Meng Wanzhou made bail and on Trump's comments that he'd "certainly intervene" in the case if it meant making headway on a trade deal with China.
Making bail is always promising, especially since it looks like we've averted a worst-case scenario with this particular arrest situation, but I doubt anyone truly thinks that the Huawei saga is anywhere near coming to a close -- Meng is back in Vancouver, awaiting extradition protocol.
The Trump talk is also promising, in that it appears to be a more logical shift in thinking from some members of his administration, who've been pounding the table that the two issues remain separate from each other. But it's just talk for now and there's so much that remains uncertainty with the trade frictions that I can't imagine anyone is feeling too peachy about these developments at the moment.
A telecom analyst at Jefferies, Edison Lee, has this take on the situation in a note titled, "Huawei: Positive Move, But Not Yet Out of the Woods." He argues that the fact that the President wants to complete a trade deal doesn't mean he wouldn't use the current situation to ask for more.
"The key is what China will have to offer for Trump to intervene," Lee wrote. "We believe both sides are working on the terms. Our guess: making Huawei more transparent; lower subsidies to tech and higher foreign content in key industries including 5G."
If today begins to look shaky like the past three opens, then you'd have to assume that ~2,600 on the S&P 500 would be back in play, just like it was on Monday and back in late October. If that support gives way (it also held several times after the February meltdown gave a three-month pause to the bull market rally), then there should be no question that the bulls are in some serious soul-searching trouble.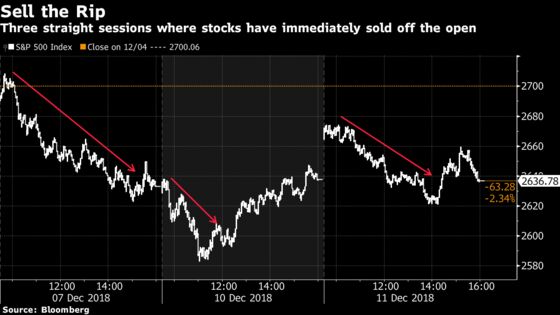 To make matters worse, we're still seeing the megacap trade proxies getting destroyed (Caterpillar and Boeing are both down >10% in the past week), banks keep selling off (BKX is on its biggest five-day losing streak in over three years plus Deutsche Bank keeps plumbing record lows), Apple can't catch even a modicum of a bid after losing more than $300 billion in market value since its October peak, U.S. Steel finished the day at a level unseen in 18 months, and GE tempted fate by briefly touching its 2009 demonic-sounding closing low of $6.66.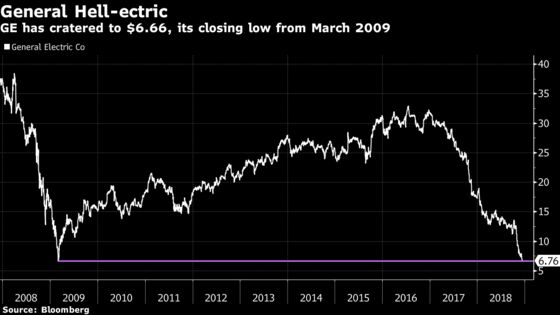 Combine these eye-popping figures from some of the most recognizable corporate names in American history with the recent turn in the market, and it's no wonder that investors are plowing headfirst into the most defensive sectors. For example, utilities, REITs, and consumer staples are the only groups in the S&P 500 that are in the green over the past three months.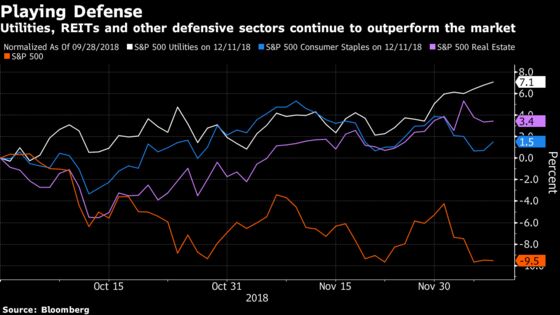 Heavy machinery, especially those with exposure to the rental market, after United Rentals gained >3% on a strong outlook for 2019
Retailers, specifically hardlines and apparel, with analyst days from Lowe's and Under Armour (expect long-term targets for the latter) on tap to start later this morning; note that American Eagle fell ~5% last night on a disappointing fourth-quarter view
Music streamers, like Spotify, after Tencent Music priced its IPO at the bottom of its range
Banks are reeling, and the analysts are chopping ratings and estimates at a rapid pace to keep up. Atlantic Equities downgraded Goldman Sachs to a neutral "to reflect a more subdued environment for investment banking activity" while KBW is removing its outperform ratings on Morgan Stanley, Bank of America, Comerica and KeyCorp.
Macquarie has a cautious note on outperform-rated Apple, arguing that Services growth will decelerate in FY2019: "Top 3 drivers likely to slow (Licensing, App Store, & Apple Care) and faster growing business (Music, iCloud, & Apple Pay) not big enough to offset. Importantly, this call on slowing Services does not take into account our thesis on potential changes to App Store commissions."
One of the biggest bulls on one of the most remarkable momentum stock reversals in some time has brought their numbers back to Earth. Needham's Laura Martin is slashing her price target on Roku (which has been cut in half since the end of September) to $45 from $85, noting that rising political tensions may negatively impact Chinese-made TV sales in the U.S.
Citi is upgrading Lululemon (shares up 2.4% pre-market) to a buy: "We get the macro concerns (and have significant fears about many stocks within our group if the consumer slows), but we think this is a brand to own in uncertain times - one with the strongest brand positioning, comp momentum, int'l prospects, margins, and ROIC in our coverage."
Tick-by-Tick Guide to Today's Actionable Events
Today -- Cowen Network & Cybersecurity Summit (day two of two)
Today -- BMO Prescriptions for Success Healthcare conference
Today -- IPO lockup expiry: AVLR, VRCA, NEW
8:00am -- VRA earnings
8:00am -- UAA, UNM, AIMT investor meeting
8:00am -- BIIB business update call
8:30am -- Nov. CPI
9:00am -- LII investor meeting
9:30am -- Tencent Music (TME) IPO to start trading after the open
9:30am -- LOW analyst meeting
10:30am -- DoE oil inventories
12:30pm -- AVYA investor day
1:00pm -- DLPH investment community meeting
1:00pm -- CSCO annual meeting
2:00pm -- Monthly budget statement
2:00pm -- HES investor day
4:05pm -- OXM earnings
4:15pm -- TLRD, NCS earnings
4:30pm -- NDSN earnings