What Else Is Left in Indonesia's Toolbox to Help Bolster the Rupiah?
(Bloomberg) -- Indonesia is ramping up efforts to shield the rupiah from a global rout that's rattling emerging markets.
Almost daily, policy makers are discussing what additional steps they can take to help curb the currency's decline. Some of the stronger measures taken so far include four interest rate hikes since May -- and possibly another one on Thursday -- and import curbs.
Yet, those have done little to reverse foreign outflows as investors continue to dump emerging market assets on the back of rising U.S. interest rates and a stronger dollar. The rupiah is down more than 8 percent against the dollar this year to reach the lowest level since the 1997-98 Asian financial crisis. It fell 0.3 percent to 14,905 per dollar as of 12:40 p.m. in Jakarta on Tuesday.
Here's a look at the steps Indonesian authorities have taken so far, and what other options are still available in their toolbox:
Bank Indonesia has raised interest rates by 1.25 percentage points since May, making it the most aggressive of Asia's central banks this year, and more policy tightening may be in store this week.
Enrico Tanuwidjaja, an economist at United Overseas Bank Ltd. in Jakarta, is forecasting a 50 basis-point hike on Sept. 27 to "instill more credibility and make sure that we are front-loaded and ahead of the curve."
After reaching a record high in January, the central bank has already drained reserves by more than 10 percent to about $118 billion, and has vowed to continue market intervention. Even so, the buffers remain adequate, covering 6.8 months of import requirements, well above the international norm of 3 months.
"Bank Indonesia has plenty of ammunition left in its war chest to support the currency, if needed," said Raphael Mok, senior analyst at Fitch Solutions. "This method will only help to smooth downside volatility rather than reverse the underlying trend of the rupiah."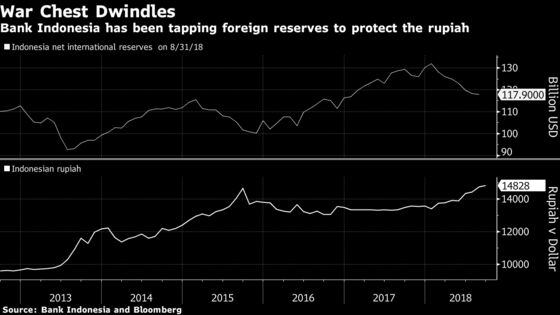 A current account deficit of 3 percent of gross domestic product, which makes Indonesia reliant on foreign inflows, is one of the reasons why the currency has been targeted in the global sell-off. To help curb imports and narrow the deficit, the government has taken the following measures:
Juniman, an economist at PT Maybank Indonesia, who goes by one name, said authorities could also raise fuel prices to reduce imports and reschedule the completion targets for ongoing infrastructure projects, which would ease import demand.
There are a range of market-specific measures in the works already and some that analysts say can still be adopted:
Hedging tools: A number of instruments, like interest-rate swaps, are in the works to help investors, exporters and banks hedge against currency risk
NDFs: The central bank is soon expected to offer non-deliverable rupiah forwards contracts, to be settled in the local currency, to help curb volatility
Export earnings: The government is planning measures that will force exporters to keep half of their earnings in the country and convert them to the local currency
Foreign deposits: Authorities could target onshore foreign-exchange deposits, which amount to about $50 billion as of June, according to Bank of America Merrill Lynch's Claudio Piron and Mohamed Faiz Nagutha
Tax incentives: The government is considering tax benefits for businesses to convert their dollar holdings into rupiah and is also reviewing tax policy on bonds
Bond tenors: The government could force investors to hold bonds for a mandatory period, said Lana Soelistianingsih, an economist at Samuel Asset Management. For example, a five-year bond could carry a holding period of three years, which would pay investors a higher coupon rate during that period
Indonesia tightened foreign-exchange rules in 2015 by making it compulsory for all transactions to be conducted in rupiah.
But no one is talking yet about full-blown capital controls, like the kind Malaysia imposed during the Asian financial crisis two decades ago to prevent investors from taking their money out of the country.
Capital controls would likely be "last-resort measures" used only if macroeconomic stability is compromised by an economic slowdown, significantly higher inflation, domestic liquidity disruption or sharply higher non-performing loans, the Bank of America analysts said. "The probability of such an outcome is highly unlikely given much better fundamentals of growth around 5 percent and inflation well-maintained within the target band," they said.
The government and central bank have also been quick to downplay such moves.
"There is no plan to change that at this time," said Suahasil Nazara, head of fiscal policy office at the Finance Ministry. "We are looking at the situation and the government is always trying to be responsive to the situation although what's in our mind is not only the short-term response."
Indonesia and other countries in the region could consider a collective, coordinated policy response to the slump by using available currency swap lines to boost their foreign reserves, said Nomura Holdings Inc. economist Euben Paracuelles.
"If the swap lines are jointly tapped from a position of strength and communicated well, it could help boost market confidence for countries with good fundamentals, but that have been disproportionately affected by shocks that are not of their own making," he said.
Aside from bilateral swap facilities, Indonesia also has access to a potential currency pool of $240 billion that was set up by Asian governments in the aftermath of the financial crisis two decades ago as an alternative to the International Monetary Fund.
Read More: Asia's $240 Billion Defense Buffer That's Not the IMF