Wells Fargo Says VIX, S&P Volatility Spikes May Be Overdone
(Bloomberg) -- The tariff news-induced volatility has outdone that for equities and may be due to reverse, according to Wells Fargo & Co.
The Cboe Volatility Index, or VIX, rose as high as 19.46 intraday after U.S. President Donald Trump announced a new round of tariff hikes on Chinese imports, abruptly escalating the trade war between the two countries. It was at 18.01, up from Thursday's close, as of 8:33 a.m. in New York. The S&P 500 posted a modest 0.9% drop on Thursday to put it only about 2.4% below the July 26 record high.
"Though the escalation in trade war tensions is not insignificant, everything would suggest that the bid to S&P vol is overdone and that vol has outpaced equities," Pravit Chintawongvanich, an equity derivatives strategist at Wells Fargo, wrote in a note. "Consider structures which are short near-dated S&P volatility and skew."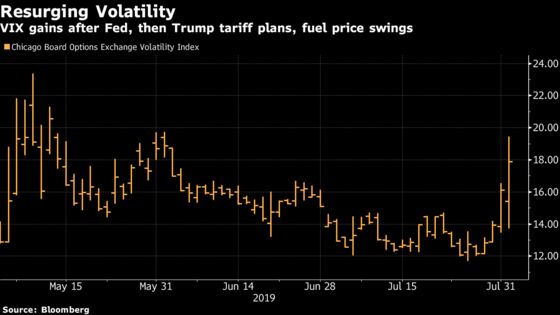 The VIX had stayed below 15 throughout July until the aftermath of the Federal Reserve meeting Wednesday briefly pushed it to 16.55. Things calmed down the next day, with the gauge dipping below 14, before the trade tweets from Trump propelled it as high as 19.46. The three most-traded VIX options on Thursday were calls with August expiry and strike prices of 20, 21 and 47.5.
Chintawongvanich said the overreaction in S&P 500 volatility could be a result of the large volume of call-buying on the VIX in recent days, which would have left any dealers on the other side of the trade short gamma in August and September futures. The dealers might have covered VIX futures during the rally, he said, exacerbating the volatility reaction.
So-called short gamma strategies effectively bet that the market will stay quiet.