Wells Fargo Unwinds Archegos Exposure Without Posting Losses
(Bloomberg) -- Wells Fargo & Co. said it unwound its exposure to Archegos Capital Management without suffering losses.
Shares of the company advanced after it issued a statement about the bank's prime-brokerage relationship with the family office. "We were well collateralized at all times over the last week and no longer have any exposure," Wells Fargo said. "We did not experience losses related to closing out our exposure."
The unwinding of Bill Hwang's Archegos reverberated across the globe after banks forced the firm to sell billions of dollars in investments accumulated through highly leveraged bets. The selloff roiled stocks from Baidu Inc. to ViacomCBS Inc., and both Nomura Holdings Inc. and Credit Suisse Group AG have said they face potentially significant losses on their exposure.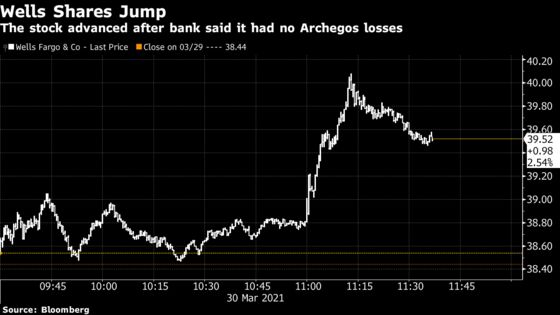 Wells Fargo's statement marks the first explicit communication from a U.S. bank on the issue. Goldman Sachs Group Inc. and Morgan Stanley were also among Hwang's brokers. U.S. regulators including the Securities and Exchange Commission summoned banks Monday to explain what happened.
Wells Fargo shares rose 2.5% to $39.39 as of 11:49 a.m. in New York. The firm executed five block trades valued at $2.14 billion, Bloomberg reported Monday.
The San Francisco-based bank's involvement in the turmoil could lengthen its time under a punitive asset cap if the fallout leads to losses or regulatory probes, Vivek Juneja, an analyst at JPMorgan Chase & Co., wrote in a note to clients earlier Tuesday.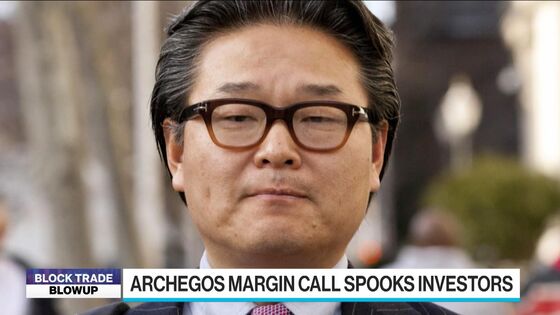 Wells Fargo has been under a costly Federal Reserve-imposed asset cap for more than three years in response to a series of scandals across the firm's business lines. The bank recently scored its most meaningful progress yet by winning the Fed's acceptance of a plan to overhaul operations, Bloomberg reported last month.
"Our key concerns for Wells Fargo are reputational risk and whether this would increase regulatory scrutiny or delay its asset cap being lifted," Juneja wrote. He said that none of the nation's biggest money-center banks have been associated with block trades tied to Archegos.
Wells Fargo had no immediate comment on the JPMorgan note.