Wells Fargo Says Buy Now in Best Stocks Entry Point in Two Years
(Bloomberg) -- Investors, if you are sitting on cash use it now, says Wells Fargo & Co.
The sell-off that started in October is not the end of the bull market and investors should continue to fight the urge to overreact to negative headlines, wrote Darrell Cronk, president of the bank's Investment Institute and team, in a note to clients Tuesday.
"We view now as a time to be ready to increase equity exposure in favorable areas, such as U.S. large-cap, U.S. mid-cap and emerging-market equities, and favor deploying cash now or even allocating incrementally over the coming days and weeks," the strategists said. "Current conditions have the potential to create some of the best entry points into equity markets since the Nov. 2016 elections."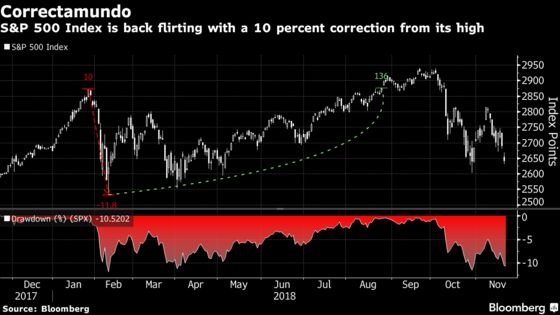 A slump in U.S. technology stocks, emerging signs of stress in the corporate credit market and diminishing hopes for a resolution to the ongoing Sino-American trade dispute have renewed last month's sell-off in global equity benchmarks. The S&P 500 briefly slid 10 percent below its September record close on Tuesday before clawing back just above the threshold.
The WFII team isn't the only one looking for a recovery in U.S. stocks. Strategists at JPMorgan Chase & Co. were confident last week the S&P 500 would recoup its October losses. Still, their competitors at Goldman Sachs Group Inc. were less optimistic, recommending investors dial back on risk and increase their cash positions in a note to clients Monday.
While Wells Fargo would be concerned if the S&P 500 fell below its lows from October and the first quarter, the U.S. economic outlook remains solid and the Federal Reserve will stay flexible, the strategists said. In addition, the sharp decline in valuation multiples for previously high-flying tech shares suggest the worst of the sell-off may be over, they added.
"Concerns about a global growth slowdown are pulling down strong U.S. growth and investor sentiment," they said. "The bottom line in our opinion, is that an economic recession is not imminent, even as many areas of financial markets are pricing like we are heading for one."