Tilray Roller Coaster Speeds Lower as Pot Mania Shows Fatigue
(Bloomberg) -- Tilray Inc. took investors on one of the wildest rides of the cannabis craze over the past two days.
The weed stock notched its steepest slide since its July trading debut, falling 17 percent to $176.35 as of 4 p.m. in New York on Thursday. A day earlier, Tilray nearly doubled, wiped that out and then surged 40 percent into the close. All said, the stock is up 14 percent since Tuesday.
The rollercoaster ride captured the attention of Wall Street as Tilray became a proxy for the latest investor craze. The stock was the most traded by value Wednesday after only Amazon.com, and mentions of cannabis in news articles nearly doubled the amount mentioning crypto. Investors grew more cautious Thurdsay.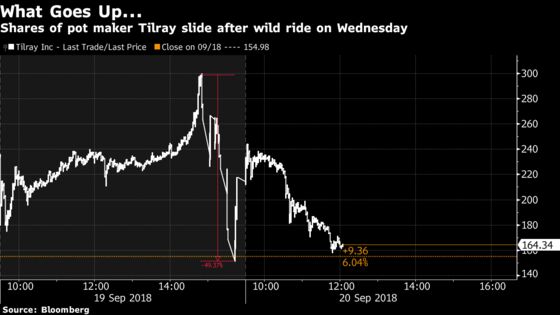 "When you get big moves like this, you suddenly have a lot of people paying attention," said Matt Maley, an equity strategist at Miller Tabak & Co. "People are going to be watching a little closer and there probably will be more human involvement today than yesterday."
The fluctuations drew comparisons to the Bitcoin craze and even the height of the dot-com bubble. Sure, Tesla Inc. has delivered some whipsaw sessions and Advanced Micro Devices Inc. has tripled this year, but the moves had a different feel.
"It's almost like everyone wanted to express their fear and greed through one entity," Michael Antonelli, an institutional equity sales trader and managing director at Robert W. Baird & Co., said by phone. "It's fun to watch. It's the wild west right now for cannabis. It isn't the kind of thing that institutions would touch."
Perhaps it's no coincidence that pot mania comes as the crypto craze is dying off. The broader U.S. stock market has churned higher on the strength of the American economy and surging corporate profits, with gains checked by relentless concerns over trade policy. With riskier markets like emerging equities in the doldrums, any sign there may be a fresh can't-miss growth story becomes a target for the inevitable knee-jerk exuberance.