Weaker Yen Means Japan's Big Bond Buyers Shy From Foreign Debt
(Bloomberg) -- The yen's drop is becoming a problem for Japan's life insurers, some of the biggest investors in global bond markets.
The currency's 1.4% slide against the dollar this year puts it at the weaker end of the range expected by some of Japan's major insurers. The companies have tended to curb overseas investments when the yen weakens, and there are signs that's happening again.
The investment strategies of Japan's insurers are constantly under scrutiny given the clout they hold with about 380 trillion yen ($3.5 trillion) worth of assets. Negative bond yields at home have put them under increasing pressure in recent years, while rate-cuts globally have also depressed returns and spurred them into riskier assets.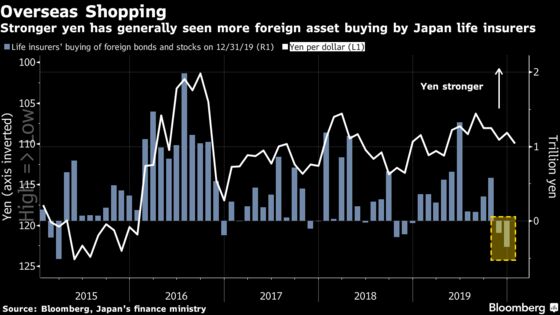 "Japanese investors are unlikely to shift their money significantly into overseas assets with the dollar-yen around 110," said Masahiko Loo, a fixed-income portfolio manager at AllianceBernstein Japan Ltd. "They will stay sidelined, given that U.S. 10-year yields at current levels aren't particularly attractive."
The warning signs are getting louder. The insurers dumped 350.7 billion yen of overseas bonds and stocks in December, the most since 2015, as the yen slipped to a six-month low against the dollar.
Japan's currency reached 110.21 on Tuesday.
The latest forecasts from six of Japan's largest life insurers showed they expect the yen to trade between 95 and 115 per dollar in the six months ending March 31. Some, including Dai-ichi Life Insurance Co. and Taiju Life Insurance Co., saw 110 as the bottom.
Investments "appreciably slowed" toward the end of 2019, particularly in bonds, Mazen Issa, a senior foreign-exchange strategist at TD Securities in New York, wrote in a research report this week. Portfolio outflows will be muted going into the end of the fiscal year after Japanese investors extensively reallocated their assets.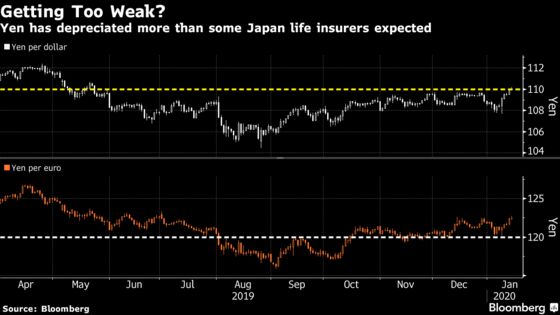 Still, not everyone thinks Japanese demand for overseas assets is set to wane. Some market watchers say currency volatility near multi-year lows would encourage investors to seek carry returns from Treasuries.
Japanese funds will get a yield premium of about 1.8% from 10-year Treasuries versus comparable domestic debt, if they forgo currency hedges. While that saves on insurance costs, it leaves them exposed to sudden fluctuations in the yen.
"There isn't much downside risk seen for dollar-yen," said Shinji Kunibe, general manager of the global strategies investment department at Sumitomo Mitsui DS Asset Management Co. "If volatility remains subdued, Japanese investors may remove currency hedges to enjoy as much carry income as possible from U.S. bonds."