Weaker Indonesia Growth Outlook Weighs on Stocks, Rupiah
(Bloomberg) -- Indonesian stocks and the currency resumed their slide on Tuesday amid concerns economic growth may weaken because of the central bank's aggressive move on interest rates.
The rupiah fell to 14,455 per dollar as of 11:45 a.m. in Jakarta, its weakest level since Oct. 2015, while the Jakarta Composite Index tumbled to 5,668.520, after falling as much as 1.8 percent to its lowest since May 2017. Finance Minister Sri Mulyani Indrawati told lawmakers on Monday that the government would tolerate lower economic growth after Bank Indonesia raised rates by 100 basis points since May 17.
"The weakening rupiah keeps hurting sentiment in Indonesian markets as a whole, particularly on the equities while the ongoing trade war may push inflation higher, which may lead to even higher interest rates and will be bad for the economy and the capital market," said John Teja, a director at PT Ciptadana Sekuritas Asia in Jakarta. "There are also concerns that raising interest rates might not be enough anymore to prop up the market unless the regulators are introducing other policies to prevent further slow down in the economy."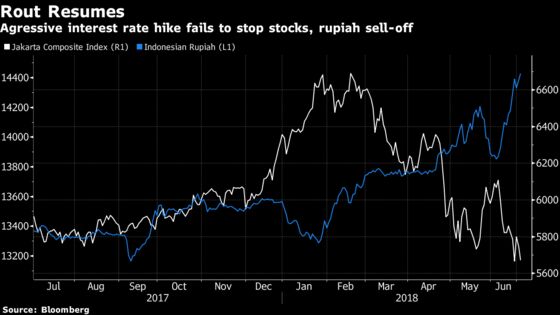 Bank Indonesia surprised economists with a bigger-than-forecast 50 basis-point increase on Friday, on top of two rate increases in May aimed at halting a currency rout. The rupiah lost 6 percent against the dollar this year, making it the third worst performer in Asia while the benchmark stock index dropped 11 percent year-to-date.