Weak Start to Earnings Season Holds Back the Bulls: Taking Stock
(Bloomberg) -- Euro Stoxx 50 futures are down 1.2% after European stocks were not able to hold on to their gains yesterday and U.S. equities also ended their session in the red, marked by weakness in financial and energy shares. Asian equities are sharply down this morning as the lack of progress between the U.S. and China on trade issues is taking its toll on investors, while the dollar is edging higher again.
We are still early in the European earning season but so far company updates have somewhat disappointed. Morgan Stanley strategists noted that for the first time since the fourth quarter of 2014, there has been more EPS misses than beats. Another worrying trend is that cost inflation is increasingly cited as a reason for margin pressure by companies executives.
Tomorrow, Heineken will kick off the earning release for beer producers and will be followed by AB Inbev on Thursday. The big question about ABI is how much they will cut their dividend, as the company is struggling with massive debt. The Dec18 dividend swap has traded at EU3 yesterday, pricing for a decent cut since the company is expected to pay EU3.6 for the year. While its rivals have bounced recently due to a relative investors' rotation into more defensive sectors, ABI shares have stalled, further widening the gap with Heineken and Carlsberg. The earning release might be the catalyst needed to trigger a re-rating.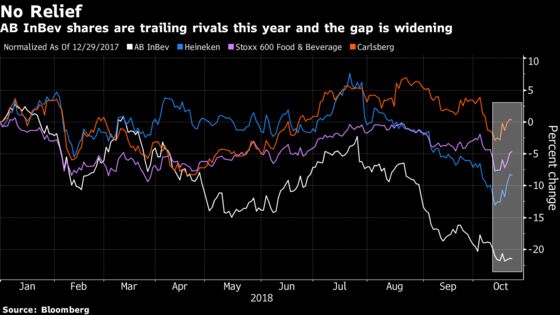 In stocks to watch this morning, HSBC is weak in Asian trading after Citi cut its rating to neutral, saying it expects a consensus earnings downgrade after 3Q results on October 29. GAM bled further assets and said the outlook does not look too good. The future of the asset manager seems to be increasingly dependent on its success in finding a buyer. Carmakers may also be shaky after Renault cuts its Chinese market forecasts from 5% to 2% for the year. Italian equities, particularly banks, may experience further volatility with a formal response from the European Commission on the budget. Bear in mind a budget rebuke is an unprecedented move from the EC.
Despite the recent outperformance of value stocks against growth equities, the rotation has not translated into inflows into the so-called undervalued shares. In fact, value funds have lost assets during the recent market rout, while growth funds saw decent inflows, hinting that large investors have not given up on high growth expectations just yet and have chosen to buy the dip.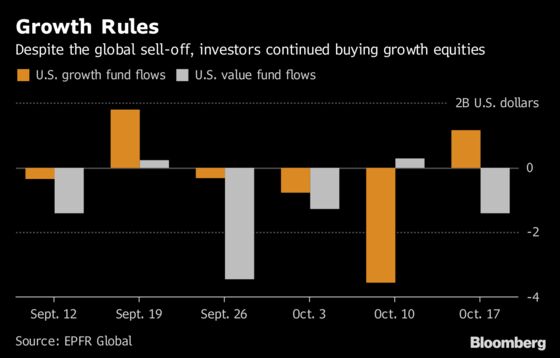 Elsewhere, U.K. Prime Minister Theresa May seems to have avoided a leadership challenge for now, but the issues remain and the pound is now trading below $1.30. WTI Crude Oil is trading below $70 after Saudi Arabia said it had no intention of using its oil wealth as a political tool and U.S. stockpiles are expected to rise for a fifth week. Oil equities and defense contractors will still be stocks to keep an eye on as Turkey promised to give all the details regarding the death of journalist Jamal Khashoggi as the Saudi investment conference begins.
"I have remained short for the whole of the recent move lower (on the Euro Stoxx 50 future) and have been looking for bullish reversal signals as a reason to be long for a counter trend rally, but none has yet appeared," Andy Dodd, technical analyst at Louis Capital Markets, writes in a note.
NOTES FROM THE SELL SIDE:
Jefferies said 3Q sales from both Luxottica and Essilor confirm improved trends, as expected. The broker stated LUX was boosted by a softer 3Q comparable in North America Retail and reduced dilution from channel clean-up in Europe Wholesale. Separately, the progress was solid at the Essilor unit, with Asia and LatAm key drivers of a step-up in Lenses growth.
Citi cut HSBC to neutral as it expects a consensus earnings downgrade after 3Q results. The bank said wealth-related income and FX-translation are a concern for 3Q, while slowing loan growth is a worry for 2H of this year through 2019.
Morgan Stanley said Schindler missed estimates across the board after the company reported order intake of CHF2.78b, 4.5% below consensus and 1.8% below their estimate despite a solid organic development at 4.8%.
Berenberg upgraded Hermes to hold from sell, citing the stock's recent price declines as well as its "safe haven" type of profile at a time of increased volatility in the luxury-goods sector amid slowdown worries.
Bayer failed to persuade a California state judge to set aside a jury's verdict in the first trial over allegations that its Roundup weed killer causes cancer, but the judge said damages should be slashed to $78.6 million from $289 million
GAM Holding said assets tumbled by almost $18 billion as it liquidated funds managed by suspended fund manager Tim Haywood and investors yanked money from other strategies
Renault confirms FY guidance, cuts Chinese market forecast, now expects Chinese market to grow 2% this year vs 5% previously
Luxottica confirms 2018 outlook, sees about 2% sales growth, cites positive trend in the retail and e-commerce business and return to growth of wholesale division
Ingenico cuts 2018 Ebitda view to EU510m vs at least EU545m
Swedbank Third-Quarter Net Income Beats Highest Estimate
Danone Confirms 2018 EPS Growth Guidance and 2020 Goals
Randstad Third-Quarter Organic Revenue +2.7%
RBS Sets Aside GBP2b to Help SMEs Deal With Brexit: FT
Julius Baer Is Said to Shut Down Its Panama and Peru Operations
GAM Says 'More Challenging Market Conditions' Likely to Continue
Getlink 3Q Revenue EU305.9m; Says Confirms Medium-Term Outlook
Eurofins Scientific Third-Quarter Revenue Meets Estimates
Kvaerner Third-Quarter Adjusted Ebitda Misses Lowest Estimate
Atos Cuts Forecasts Due to Infrastructure, Data Mgmt Unit
PAI Partners Mulls Bid for Ferrovial Services Unit: Economista
Borregaard Third-Quarter Net Income Meets Estimates
Logitech Second-Quarter Sales Match Estimates
Sartorius Nine-Month Sales EU1.15 Bln
Schindler Third-Quarter Ebit Misses Lowest Estimate
UBS Removes China Travel Restrictions for Its Private Bankers
Shanghai Halts Compass Catering Service to Schools After Probe
BMW Korea to Recall Nearly 66,000 Vehicles: Yonhap
Total CEO Pouyanne Says Will Attend Saudi Conference
Shire/Takeda Expect EC Phase 1 Antitrust OK: DealReporter
Vallourec Says Doesn't Accept Altifort's Offer for Ascoval Plant
AMS Third-Quarter Revenue 1.1% Above Estimates
Essilor 9M Sales at Constant FX +4.8%
Klepierre's Nine-Month Revenue Rises 2% to EU1b
Worldline Third-Quarter Backlog EU2.6 Bln
Proximus, Telenet, Orange in Pact W/ Brussels Govt for 5G: Echo
TECHNICAL OUTLOOK for Stoxx 600 index:
Resistance at 360 (January 2017 low); 365.1 (38.2% Fibo)
Support at 353.2 (50% Fibo); 341.2 (61.8% Fibo)
RSI: 30.2
TECHNICAL OUTLOOK for Euro Stoxx 50 index:
Resistance at 3,194 (50% Fibo); 3,262 (March low)
Support at 3,072 (61.8% Fibo), 2,921 (76.4% Fibo)
RSI: 31.7
MAIN RESEARCH AND RATING CHANGES:
UPGRADES:
Ascential upgraded to buy at Peel Hunt
Brunello Cucinelli upgraded to buy at Berenberg
Bureau Veritas upgraded to buy at Jefferies; PT 22.50 Euros
Dialog Semi upgraded to buy at AlphaValue
Drax upgraded to add at AlphaValue
Hermes International upgraded to hold at Berenberg
ICADE upgraded to buy at Invest Securities SA; PT 82.50 Euros
Orpea upgraded to outperform at MainFirst; PT 119 Euros
Philips upgraded to buy at DZ Bank; PT 37 Euros
BASF downgraded to sell at Baader Helvea; PT 65 Euros
DSV downgraded to equal-weight at Morgan Stanley; PT 600 Kroner
Enel downgraded to reduce at HSBC; PT 4 Euros
HSBC downgraded to neutral at Citi
Leoni downgraded to underweight at JPMorgan; PT 28 Euros
Linde downgraded to hold at DZ Bank; PT 235 Euros
NN downgraded to neutral at Goldman; PT 42 Euros
Pernod Ricard cut to hold at Kepler Cheuvreux; PT 133 Euros
Radisson Hospitality cut to hold at DNB Markets; PT 35 Kronor
Topdanmark downgraded to sell at SEB Equities; PT 303 Kroner
CYBG rated new underweight at Barclays; PT 2.80 Pounds
EssilorLuxottica SA reinstated buy at Kepler Cheuvreux
ICF Group rated new neutral at Mediobanca SpA; PT 9 Euros
Moncler rated new buy at Berenberg; PT 37 Euros
Salvatore Ferragamo rated new hold at Berenberg; PT 17 Euros
Tikehau Capital reinstated hold at Kepler Cheuvreux
Tod's rated new hold at Berenberg; PT 52 Euros
MSCI Asia Pacific up 0.5%, Nikkei 225 down 2.6%
S&P 500 down 0.4%, Dow down 0.5%, Nasdaq up 0.3%
Euro down 0.15% at $1.1447
Dollar Index up 0.03% at 96.04
Yen up 0.31% at 112.47
Brent down 0.4% at $79.5/bbl, WTI down 0.3% to $69.2/bbl
LME 3m Copper down 0.8% at $6190.5/MT
Gold spot up 0.2% at $1224.4/oz
US 10Yr yield down 3bps at 3.17%
MAIN MACRO DATA all times CET:
10am: (SP) Aug. Trade Balance, prior -3.25b
12pm: (UK) Oct. CBI Trends Total Orders, est. 2, prior -1
12pm: (UK) Oct. CBI Trends Selling Prices, est. 15, prior 13
12pm: (UK) Oct. CBI Business Optimism, est. -4, prior -3
4pm: (EC) Oct. Consumer Confidence, est. -3.2, prior -2.9