We Just Witnessed The Fastest Stock Market Correction on Record
(Bloomberg) -- Six days. That's all the time it took for the S&P 500 to fall more than 10% from a record into a correction.
That's the quickest turnaround of the sort ever, according to data from Deutsche Bank Global Research. The S&P 500 fell 4.4% Thursday, the worst day since 2011, bringing its total decline from a Feb. 19 high to 12%.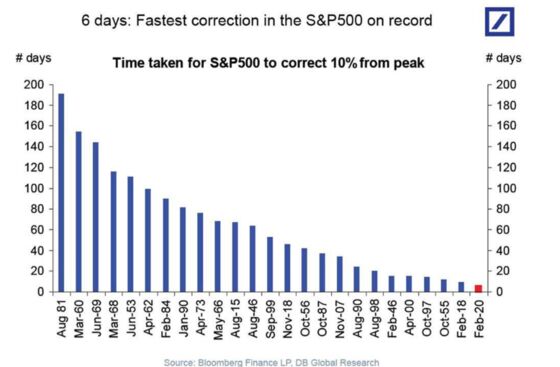 This week has been harrowing for investors, with the benchmark declining more than 3% in three of the last four sessions. The S&P 500 is poised for its worst week since 2008.
But wait. Haven't stocks fallen a lot more than 10% in a single day? Yes -- they dropped more than twice as much on Oct. 19, 1987, for instance. The difference between then and now is that this plunge started from an all-time high.
"The speed of the decline over the past week even beats the Black Monday episode in October 1987, where the peak was in August 1987," Torsten Slok, chief economist at Deutsche Bank, wrote in an email.