Warning Signs Flash for HSBC, Merrill in Emerging Market Rally
(Bloomberg) -- The backlash to the world's most-popular trade is underway -- the emerging market rally has now gone too far, according to HSBC Holdings Plc and Bank of America Merrill Lynch.
A combination of potentially hawkish Federal Reserve surprises and already stretched performance has convinced HSBC strategists including Max Kettner to turn cautious on emerging-market assets, while Merrill Lynch strategist Ralf Preusser thinks developing-nation bonds are vulnerable to positive U.S. data releases.
"Cross-asset emerging market performance looks stretched, particularly for EM local currency debt and EM equities," wrote Kettner and team in a note Monday. "Might now be the time to reduce EM exposure in portfolios tactically, that is over three months? We think it is indeed time for a breather."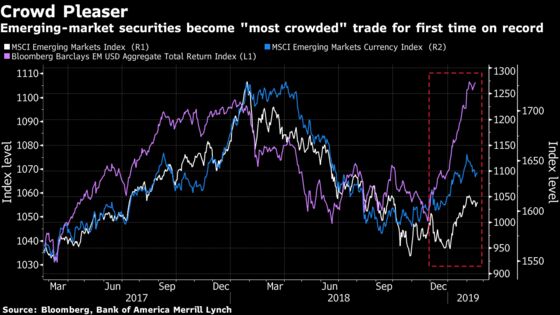 Emerging-market assets have rebounded since the end of last year, as a dovish turn from many of the world's central banks and growing optimism about U.S.-China trade talks boosted risk assets. The MSCI Emerging Market Index of shares is up over 7 percent year-to-date and its currency equivalent has risen 1.3 percent. The Bloomberg Barclays EM USD Aggregate Total Return Index has gained about 3.5 percent in the period.
For HSBC, the asset class's performance now looks stretched if history is any guide. It also seems plausible that any Fed surprises in the coming months will be to the hawkish side, which would pressure EM, the strategists wrote. Even with a quick U.S.-China trade resolution, relative upside would be constrained, they added.
Meanwhile, Merrill Lynch's argument is centered around the strength of the U.S. economy. Given its closed nature and the remnants of its fiscal tailwinds, there is a risk of upward pressure to both the dollar and U.S. rates, which would be negative for EM, Preusser wrote in a note Monday.
"With dollar short positions notable, the USD move could be painful and exert pressure on EM." he said. "As a result, we continue to prefer taking risk off the table in EM directly."
Still, not everyone is as cautious. With optimism growing over a resolution to the trade dispute, and its view the dollar is likely to weaken as the Fed stays on hold, the outlook for emerging-markets stocks is looking rosier, according to JPMorgan Asset Management. Amundi Asset Management and Hermes Investment Management are also arguing that a duller U.S. economic outlook is an opportunity not to be missed for equity investors in developing markets.
Investing in emerging markets overtook the U.S. dollar as the most "crowded" trade in Bank of America Merrill Lynch's most recent survey of global fund managers, the first time the asset class has held the top spot.