Fat Finger or Mistaken Identity? Hong Kong Stock Suffers Mystery Plunge
(Bloomberg) -- A snack maker suddenly tumbled the most in more than a year in Hong Kong, with traders speculating someone may have mistakenly sold the stock.
Want Want China Holdings Ltd. lost as much 7.8% just as the pre-market session opened, with some 101,000 shares changing hands at the intraday low of HK$5.65, according to data compiled by Bloomberg. Want Want, a member of the Hang Seng Index, quickly erased the losses within minutes after regular trading started. It added 1.1% at the close to be the best performer on the index, which fell 0.8%.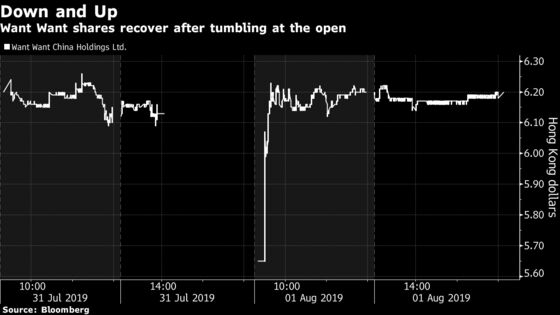 Possible explanations included a trading error known as a "fat finger." Others guessed it was a case of mistaken identity: Want Want's Chinese name shares three out of its four characters with China Zhongwang Holdings Ltd., which tumbled as much as 21% after its billionaire owner was charged with evading U.S. tariffs. Zhongwang closed down 14%.
"It could be someone's mistake, but it could also be some investors' own judgment over the stock," said Jackson Wong, asset management director at Amber Hill Capital Ltd. "It's quite a big discount for Want Want. That deal was the biggest in the pre-market."
A spokesperson for Hong Kong Exchanges & Clearing Ltd. said the market was operating smoothly Thursday and that it does not comment on individual stocks. An investor-relations representative for Want Want said in an email that the company wasn't aware of the reason behind the stock move.