Wannabe Weed ETF Has Bigger Challenge Than Pot Stocks' 30% Slump
(Bloomberg) -- A new exchange-traded fund is looking to make the case to buy pot stocks again after indexes tracking cannabis plunged more than 30 percent in less than two months. But that may not be its biggest hurdle.
Investment firm OBP Capital of Rocky Mount, North Carolina, is seeking regulatory approval from the U.S. Securities and Exchange Commission to start the Innovation Shares Cannabis ETF, regulatory filings show. The fund, which will primarily invest in U.S. and Canadian companies linked to legal weed, shares a name with its index provider -- Innovation Shares LLC -- which backed blockchain and autonomous vehicles funds earlier this year.
Marijuana stocks have tumbled over the last six weeks, as legalization in Canada failed to offset growing concerns about high valuations. But a bear market in pot isn't the only challenge for new weed ETFs. There's also banking.
U.S. banks, which are federally regulated, have been reluctant to engage with an industry that's illegal under national law. However, these are the institutions that ETFs typically rely on to serve as custodians for their holdings. OBP Capital's filing doesn't currently list a custodian for the fund.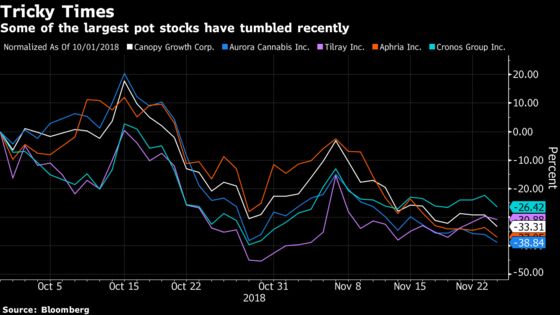 The ETF plans to engage an institution that's authorized to serve as custodian under SEC rules but that's not a traditional bank custodian, according to Kip Meadows, chief executive officer at Nottingham Co., the ETF's administrator, which is affiliated with OBP Capital. He declined to identify the firm because the agreement hasn't been finalized and approved by the board.
If it gets the go-ahead, the fund would join just one other pot-focused ETF in the U.S. The ETFMG Alternative Harvest ETF, which trades as MJ, started life as a Latin American real-estate fund before switching to cannabis companies last December. U.S. Bancorp acted as custodian for the ETF until September, when Wedbush Securities Inc. took over. MJ held onto its assets amid the recent rout, with no outflows since August.
Across the border in Canada, the Horizons Marijuana Life Sciences Index ETF, ticker HMMJ, has seen 10 days of outflows since its price peaked on Oct. 15, but money coming into the fund has broadly offset those losses. CIBC Mellon Trust in Toronto is custodian for the ETF, according to the prospectus.