Walmart's China Plan Adds Optimism to Asia Grocers
Walmart Inc.' s China expansion plan is the latest vote of confidence in an Asian grocery market that is proving resilient for investors.
The retail giant plans to expand its members-only warehouse chain, Sam's Club, to 100 stores in the next eight years, after reporting a blowout quarterly performance this week that underscored the strength of staple goods sellers during lockdowns.
The Bloomberg Asia Pacific Retail Index, a gauge of stocks from supermarket operators to specialty retailers, has outperformed the broader regional benchmark by over 5 percentage points this year. Its 7.5% year-to-date decline compares favorably to the 12.7% slump in the MSCI Asia Pacific Index.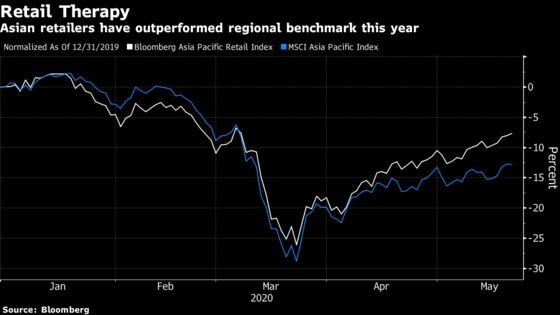 The strong outperformance is well supported by recent earnings. Among MSCI Asia Pacific Index sectors, consumer staples is the only one where more than half of companies reported earnings growth for the last quarter, according to data compiled by Bloomberg.
Convenience stores and drug retailers led the increase, which benefited from a rush to purchase hygiene products and groceries.
The outlook may continue to be rosy for staples retailers, even though life is gradually returning to a degree of normality after lockdown measures eased in Asia, according to Banny Lam, managing director at CEB International Capital Corp.
"The pandemic hasn't ended, so people may still stay at home for a longer time and cook at home," said Lam. "Consumer staples companies like supermarkets will continue to benefit, especially those with online platforms."
In addition, consumers may stick with just purchases of the basic necessities due to worries about job security, he added.
"The health concern is still there," he said.
See also:
Asia Stocks Wrap
Global Markets Wrap
Markets Live Blog