Wall Street's Next Fed Stress Test Assumes Deepest Recession Yet
(Bloomberg) -- Wall Street will face particularly tough stress tests this year, with the Federal Reserve requiring banks to show they can keep lending during a harsh global recession.
A big silver lining: Firms will get much more transparency into how the tests work.
The 2019 exams will assume the biggest jump in U.S. unemployment the exercises have ever envisioned -- rising more than 6 percentage points to 10 percent joblessness. Yields on 10-year treasuries will also fall, along with prices for commercial real estate and housing.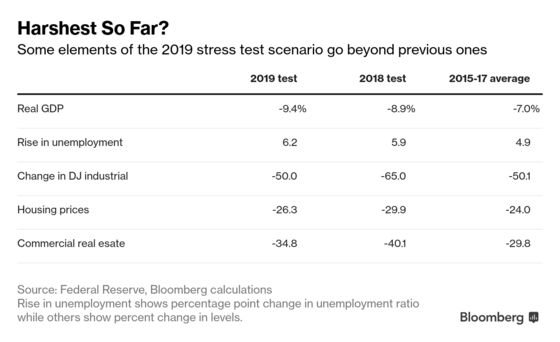 Big banks such as JPMorgan Chase & Co., Goldman Sachs Group Inc. and Citigroup Inc. must measure their performance against the hypothetical scenarios and prove their actual plans for dividends and share buybacks wouldn't compromise their ability to weather such a downturn.
The key difference in this year's tests -- called the Comprehensive Capital Analysis and Review -- is a newly finalized transparency campaign. The Fed announced Tuesday that it's making several changes, including letting banks see the loss rates of actual and hypothetical loans under the regulator's models. The Fed will also provide lenders with more information about the equations and variables that influence the results.
The revisions might allow banks to veer closer to the edge of permitted capital minimums without as much fear that they will slip below what the Fed requires.
"The hypothetical scenario features the largest unemployment rate change to date," Vice Chairman for Supervision Randal Quarles said in a statement about this year's tests, the results of which will be announced by June 30. "We are confident this scenario will effectively test the resiliency of the nation's largest banks."
Banks with more than $100 billion in assets are subject to the tests and must submit their capital plans by April 5. But the Fed also announced firms between $100 billion and $250 billion will get further relief, putting their tests on an extended timeline that leaves them out of the 2019 process. The Fed still plans to propose a rule for how it will handle those lenders' capital-distribution plans.
In the 2018 tests, the central bank blocked Goldman Sachs and Morgan Stanley from boosting their capital payouts. Still most of the industry fared well, with other major lenders announcing after the exams that they would spend a record of more than $110 billion on dividends and stock repurchases.
The Fed has separately been working on overhauling its main capital rules to incorporate each bank's stress-test results directly into its capital demands. But that process -- a major change for Wall Street institutions -- has been waiting while the agency finishes implementing a law that overhauled parts of the Dodd-Frank Act mostly for regional and smaller lenders.