Wall Street Has a Fresh Way to Bet Value Dethrones Growth
(Bloomberg) -- On Wall Street, buying low is working again, as value stocks trounce their high-growth peers. While that's a worrying trend for the decade-long bull market, it's just another way to make money for purveyors of structured notes.
Credit Suisse Group AG is marketing a new product that profits if value shares -- equities that are inexpensive by various metrics -- outperform growth stocks. Get it right and note holders can earn a 12 percent return in a year. But if they're wrong, they stand to lose everything.
It's the Street's latest strategy to capitalize on the market trend du jour, after rolling out retail-friendly products betting on everything from FANGs to the shape of the yield curve. Cheaper stocks have become a refuge this month, dropping 4.9 percent compared with a 6.4 percent slump for the S&P 500 Index, and outpacing a category comprising the tech giants that powered most of the equity market's outsize gains in recent years.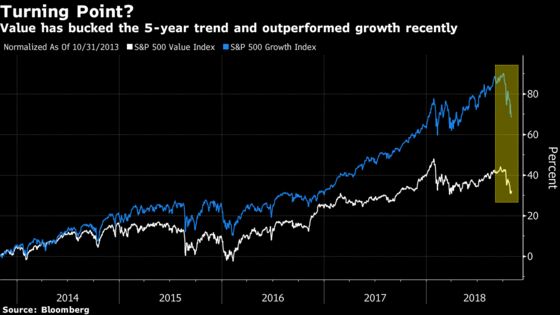 That trend started in September, and has led to calls from strategists to shift toward lower-valuation stocks in an environment of rising bond yields.
"Many may be looking for value opportunities as stocks have fallen," said Jodie Gunzberg, head of U.S. equities at S&P Dow Jones Indices. The bargain-hunting has pushed U.S. large- and mid-cap value stocks to their largest outperformance over growth since 2016, she said.
Not everyone sees value's outperformance as having legs, however. Investors like State Street and Joh Berenberg Gossler & Co. KG remain fans of companies that are expected to expand rapidly on the grounds they don't believe global growth is faltering just yet.
"The bounce in value was short lived," Mayank Seksaria, chief macro strategist at Macro Risk Advisors, wrote in a note recently. "We see a stronger macro case for the yield curve to continue its flattening trend which is likely to cause further value underperformance if this relationship continues to hold/strengthen."
Whichever category prevails, it seems structured note providers also stand to win.
Wall Street is on pace to issue around $4 billion of the securities this month, despite surging U.S. stock volatility, which is traditionally seen as a headwind for the industry as investors turn gun-shy. Sales of such notes, which package options strategies in a format accessible to mom and pop, climbed to around $13 billion last quarter, a 25 percent increase over the same period a year earlier.
With a payout tied to the relative performance of the S&P Value and Growth indexes, the Credit Suisse structured securities effectively provide a long position in the value index with a short position in the growth gauge -- without compelling investors to borrow shares or trade derivatives.
The notes include an underwriting discount and commission payment of up to 2.25 percent to Morgan Stanley Smith Barney LLC, according to a preliminary prospectus.