Wall Street Worries That Credit 'Losers' Will Crash Risk-On Stock Party
(Bloomberg) -- As the new-year rally rewards the weakest links, investors and strategists warn shareholders in some of the most indebted companies in Europe are sitting ducks as the credit cycle shifts.
Bank of America Corp. and Sanford C. Bernstein are among those this week fretting fresh pain for battered stock investors in the region on the heels of elevated refinancing costs.
"European credit spreads have doubled over the last year and companies are finding that they must now pay large concessions on bond deals to attract the requisite demand," Bank of America strategists led by Barnaby Martin wrote in a note. "We think that credit markets now signal that earnings-per-share downgrades lie ahead."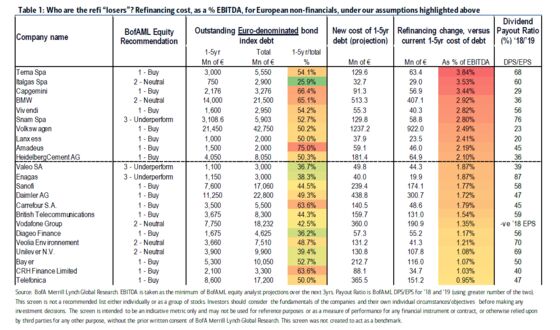 Conditions that encouraged Europe Inc. to load up on cheap debt are fading as investors price out monetary stimulus -- favoring, in theory, those with higher profitability and lower leverage.
"Clearly this is a time when balance sheets matter," said Chris Bailey, a European strategist at Raymond James.
Bank of America singles out 23 refinancing "losers" given their outsized short-term debt loads and steep curves. It expects tougher refinancing conditions to bite off as much as 4 percent in earnings per share for corporates in the region.
Primary markets in Europe are less hospitable for lower-rated borrowers seeking bumper-sized or longer-dated bonds.
"Know your company inside out as the global business environment is changing fast and you want to be sure it is robust," said Esther Baroudy, a portfolio manager at State Street Global Advisors. "High leverage in difficult economic circumstances may be damaging."
Cautious investors face risks of their own. Safer shares are underperforming as global growth powers on and debt markets recover from the December meltdown.
Europe and U.S. companies with the lowest leverage and highest credit rating trade at a discount of about 20 percent to their counterparts with elevated borrowing and lower debt ratings, according to Bernstein. That suggests equity investors are behind the curve as the business cycle ages, strategists including Inigo Fraser-Jenkins wrote in a note.
"Macro data is slowing, credit spreads are set to rise and the quality of corporate credit is at a 20-year low. The recent outperformance of low balance sheet quality stocks is an opportunity to sell them, in our view."
The gap between Wall Street warnings and risk-on investors can be seen in the U.S. where corporates riddled with leverage are up 11 percent this month versus 10 percent for those with strong balance sheets, according to Goldman Sachs Group Inc. indexes. That's a shift from the fourth quarter, when equities with strong balance sheets outperformed their counterparts.
A similar Europe index from Morgan Stanley shows the weaker players have bested the strongest so far this year, albeit marginally.
Barclays Plc, for its part, struck a sanguine tone on the credit-equity feedback loop this year, citing only gradual increases in funding costs. Still, it warns equity investors to tread carefully if company-specific risks grow.
"To the extent that European issuers are forced to draw on liquidity resources and free cash flow to offset lack of bond market access, that behavior could eat into shareholder returns in stressed scenarios," strategists led by Emmanuel Cau wrote.