A New High? Wall Street Strategists Are Not Impressed
(Bloomberg Opinion) -- After a slow start to 2018 that had many whispering about a coming bear market, U.S. stocks have come on strong. The S&P 500 Index rallied again on Wednesday to another new high, bringing its year-to-date gain to 8.99 percent. And yet, the one group whose primary job is to tell investors when to buy and sell stocks is showing unusual restraint.
The median estimate of 25 Wall Street strategists in a survey by Bloomberg News released Wednesday is for the S&P 500 to end the year at 3,000, which is about 3 percent higher than where the benchmark ended the day. That would certainly be welcome, but it feels a bit underwhelming given an economy that grew at a greater-than-4-percent clip in the second quarter, fueled by corporate earnings that are rising better than 20 percent a year. It's also no different than strategists' forecast in March. Perhaps the lack of animal spirits may be due to many of these prognosticators being away from the office enjoying summer vacations, and we'll see estimates surge following the Labor Day holiday. Then again, it could just reflect the general notion that economic growth has peaked for the moment. Citigroup Inc.'s economic surprise indexes show that not only has U.S. data largely missed estimates this month — they've missed by the greatest degree since September 2017.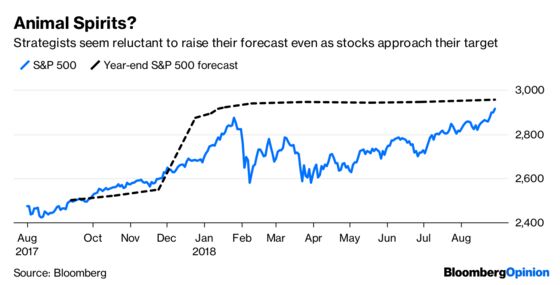 "It somehow has been lost among the bulls that two-thirds of the incoming economic data so far in August have come in below expectations," David Rosenberg, chief economist and strategist at Gluskin Sheff & Associates, wrote in a recent research note. "The monetary aggregates," he added "strongly suggest we are soon heading for a stall-speed of 1" percent growth in real gross domestic product. "Underlying productivity and (labor) force growth shows that even with the deregulation thrust, the dial has not been spun one iota regarding potential real GDP growth which, at around 2 (percent), is about the same as it was during the Obama tenure."
OIL MAKES A MOVE
Many bears like Rosenberg also point to a lack of growth in wages once inflation is taken into account as a reason the economy is poised to slow. Assuming Americans aren't in line for bigger raises anytime soon, then they're about to feel even more pinched at the pump because oil is back on the rise, with West Texas Intermediate on the cusp of breaching $70 a barrel again. Oil prices touched a three-week intraday high of $69.75 on Wednesday after the Energy Information Administration reported nationwide crude inventories fell 2.57 million barrels last week, more than the 1.49 million-barrel drop that analysts forecast in a Bloomberg survey. In Europe, Brent crude is signaling that U.S. sanctions against Iran's oil exports are starting to be felt in global markets. Futures for settlement in November — when the measures go into effect — are trading higher than contracts for later months, according to Bloomberg News's Heesu Lee and Grant Smith. That market structure, known as backwardation, is reflecting fears of a supply crunch and potentially even higher oil prices.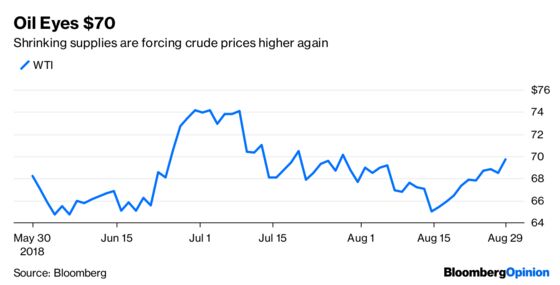 STERLING LOOKING UP
Long-suffering sterling bulls are seeing some relief. The Bloomberg Pound Index, which had fallen 7.33 percent between mid-April and Tuesday, rose as much as 1.22 percent on Wednesday in its biggest gain since September 2017. The trigger was a comment by Michel Barnier, the European Union's chief Brexit negotiator, that the EU was prepared to offer the U.K. an unprecedented partnership, different from that with any third country. The market had increasingly moved to price in the risk that Britain might leave the EU without a deal, putting sterling in line for its fifth straight monthly loss. "The market was very much becoming aligned with a no-deal Brexit," Manuel Oliveri, a currency strategist at Credit Agricole SA, told Bloomberg News. The developments have implications for the broader markets, with traders potentially selling dollars, euros and yen to rush back into the pound. Those currencies broadly weakened Wednesday.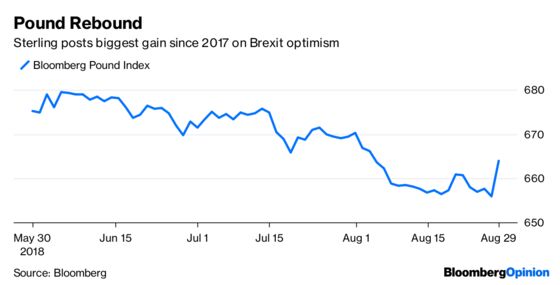 ARGENTINA BLINKS
Confidence is everything in financial markets. Show any signs of weakness, and the bears pounce. In that sense, Argentine President Mauricio Macri violated the No.1 rule, which is never let them see you sweat. Macri asked the International Monetary Fund to speed up disbursements from its $50 billion credit line to ease the nation's financial crisis. The nation's peso fell 7.3 percent Wednesday to an unprecedented 33.8 per dollar. "The announcement was very weak," said Guillermo Nielsen, a former finance secretary from 2002 to 2005. "There is an absolute lack of confidence in the peso." Argentine dollar-denominated bonds fell, with 10-year notes down 1.6 cents to 74.5 cents on the dollar, pushing yields up 33 basis points to a near-record 10.15 percent. Macri's request reflects the pressure policy makers are under to reassure investors that the government will have enough money to fund itself through next year without incurring more debt, according to Bloomberg News.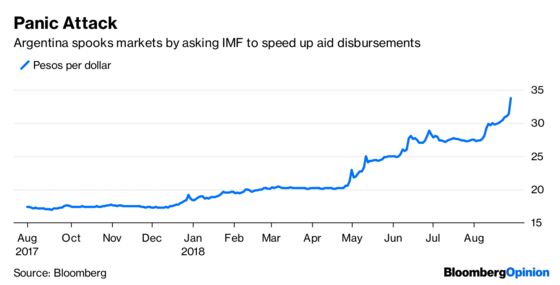 BOND SLUMP ENDING
It won't be anything to brag about, but with two days left in August the global bond market looks poised to snap four straight months of losses. The benchmark Bloomberg Barclays Global Aggregate Bond Index, which tracks $50.2 trillion of fixed-income assets, was up 0.17 percent for the month through Tuesday. A large portion of the gains are attributable to a rally in U.S. Treasuries, which suggests investors are a bit worried about the economic outlook. Indeed, there's plenty to be worried about. International trade in merchandise by the world's biggest economies shrank in the second quarter for the first time since 2016, the Paris-based Organization for Economic Cooperation and Development said on Wednesday. Exports by the Group of 20 countries fell a seasonally-adjusted 0.6 percent when expressed in current U.S. dollars, while imports declined 0.9 percent, according to Bloomberg News's Marcus Bensasson.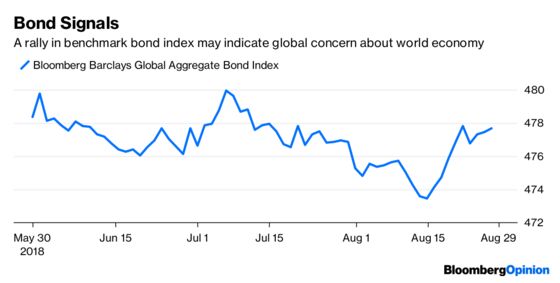 TEA LEAVES
It's hard to quibble with the U.S. Commerce Department's updated report Wednesday on how the economy performed in the second quarter, as the estimated rate of growth was revised higher to 4.2 percent from 4.1 percent. But to investors, that's old news. The calendar shows we're two-thirds of the way through the third quarter and most are deep into their models trying to figure out how the economy is performing right now. They'll get a key piece of the puzzle Thursday when the government reports on personal income and spending for July. The median estimate of economists surveyed by Bloomberg News is for a healthy 0.4 percent advance in both measures. But when taking into account inflation, spending is likely to have risen a more moderate 0.2 percent, which would be the smallest gain since February. 
This column does not necessarily reflect the opinion of the editorial board or Bloomberg LP and its owners.
Robert Burgess is an editor for Bloomberg Opinion. He is the former global executive editor in charge of financial markets for Bloomberg News. As managing editor, he led the company's news coverage of credit markets during the global financial crisis.