VW Shares Rise as Results Defy New Emission Tests: Street Wrap
(Bloomberg) -- Volkswagen AG reported solid third-quarter results, surprising investors who were expecting earnings to be hurt more by the new WLTP emission-testing system at the carmaker, which has been among the most vocal companies about the setup's negative effects.
VW shares rose as much as 5.1 percent and were up 3.3 percent at 11 a.m. in Frankfurt, the best performance on the Stoxx 600 Automobiles & Parts Index, followed by controlling shareholder Porsche SE. That extended an advance from Monday, when car stocks globally benefited from a possible stimulus from China through a 50 percent cut to the tax on vehicle purchases. VW still sees a WLTP-related earnings impact at more than 1 billion euros ($1.14 billion), the German manufacturer said Tuesday.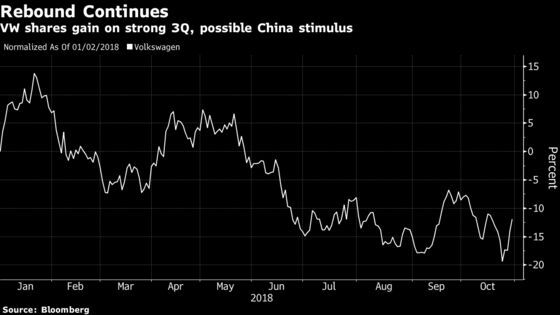 "The market will see VW's numbers as confirmation of the fundamental strength" of the company, Evercore ISI analyst Arndt Ellinghorst said in a note. "VW delivered a solid quarter despite the sector and self-inflicted disruptions from WLTP which have caused a drop in earnings at the VW brand and Audi."
Here's what else analysts are saying about VW's latest update:
3Q surprisingly solid, in spite of WLTP
Sees marginal upside to full-year consensus for group adjusted operating profit 
Evercore ISI, Arndt Ellinghorst, outperform
Solid quarter despite disruptions from WLTP which have caused a drop in earnings at the VW brand and Audi; the Porsche AG nameplate reported another exceptional quarter
Biggest surprise is that VW managed a positive underlying, adjusted free cash flow of 850 million euros
Improved China outlook and likely car-tax stimulus "will trigger more interest in the sector and VW should benefit over-proportionately" in light of its large exposure to the country
3Q "nicely beat expectations" with strong FCF resilience and FY guidance reaffirmed
Underlying performance is much better than feared in view of the WLTP disruption
Free cash flow resilience also noteworthy, full-year organic FCF target "clearly within reach"
Prospect of tax incentive in China would support local demand and help improve market sentiment on autos
Jefferies, Philippe Houchois, buy
3Q solid with Ebit higher than consensus and better underlying quality
Resilience in China, better-than-expected management of working capital and production costs
Guidance confirmation not a surprise but 3Q provides additional buffer ahead of expected production recovery in 4Q
Bloomberg Intelligence, Michael Dean
Unlike its German peers, VW weathered a weak 3Q environment without a profit warning
Carmaker is also set to be the biggest beneficiary from a reported possible China purchase-tax cut on new passenger vehicles, given VW and Skoda brands' 15 percent market share