VW Shares Race Ahead as Results Strength Impresses Analysts
(Bloomberg) -- With expectations subdued heading into Volkswagen AG's first-quarter results, the German carmaker posted "surprisingly strong" earnings that sent the shares up the most in five months.
The stock's rise of as much as 5.2 percent was the steepest intraday advance since Dec. 3 and led gains on the DAX benchmark and on the Stoxx 600 Automobiles & Parts Index.
Analysts said earnings were helped by self-help measures and an improving mix, along with the revaluation of financial instruments that added 400 million euros to the result and favorable exchange rates.
"For most companies that we cover, 1Q was a significant challenge," Evercore ISI analysts led by Arndt Ellinghorst wrote in a note. "Bearing this in mind, VW has done a decent job and we continue to believe that the fundamental performance and future opportunity isn't reflected in the valuation -- especially relative to other auto stocks."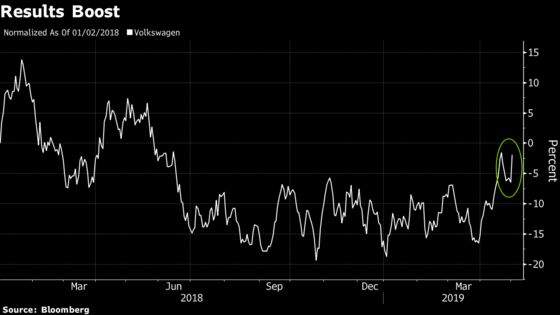 Here's a round-up of what analysts are saying:
Very strong start to the year despite a challenging market environment, confirming that self-help measures and an improving mix are supporting earnings
While 1Q got an uplift from fair value measurement on gains from derivatives, the operating performance was better than expected
The carmaker benefited from a better sales mix and price positioning while volume sales declined; FX effects were a tailwind in the quarter
Even after taking into consideration the positive effects from the fair value measurement of gains and losses on certain derivatives and favorable FX, results were still 8% ahead of Street expectations, driven by a stronger performance at the VW brand, Audi, Skoda and VW CV
"All-in-all, the start of the year has been strong, mainly related to the individual performance of brands (VW brand) and the reconciliation line"
"Better-than-expected underlying performance across the board, with more resilient VW brand margins"
1Q is the "low point" of the financial year due to slow start in terms of deliveries, relatively high inventories and start-up/launch costs; expect a gradual recovery with delivery of the current high order backlog
Management's tone on the calls "will help to assess whether the company feels comfortable in the current tough business environment"
Strong start in underlying profit contribution, but slightly disappointing free cash flow
"FX and derivatives valuations seem to have been material positive contributors"
Consensus estimates unlikely to change
Strong operating figures with an adj. Ebit margin of 8.1%, "well above the FY target corridor of 6.5%-7.5%"
Still, almost 1 billion euros of Dieselgate related one-off provisions for legal cases and a 400 million-euro derivative valuation gain included in Ebit "are also part of the story. Thus, we doubt that there is a lot potential for earning upgrades"
"Despite the strong start to the year, we believe the guidance is realistic and not conservative"
Ebit before special items increased by 15% y/y, beating consensus by almost 18%
1Q includes a one-off from the revaluation of derivatives and the underlying result is "thus weaker than it appears at first glance" but still about 8% ahead of consensus
Earlier reaction: VW 1Q Results 'Surprisingly Strong,' Shares Seen Up: Analysts