Volatility Spurs Institutions to Beef Up Their Tactical ETF Use
(Bloomberg) -- Exchange-traded funds are getting a boost from market volatility.
Heightened turbulence is spurring greater tactical use of ETFs by institutions, a new study sponsored by BlackRock Inc., the world's largest asset manager, found. These large users allocated an average 25 percent of their assets to ETFs in 2018, up from 19 percent a year earlier, according to the survey, which was conducted by Greenwich Associates.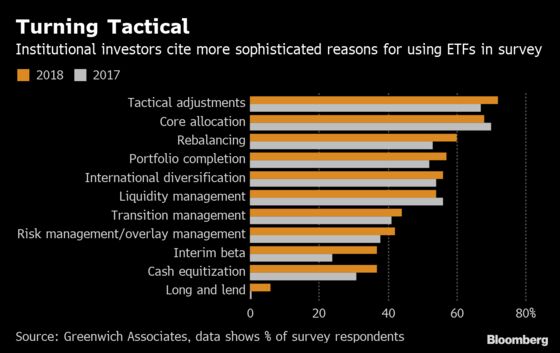 Geopolitical events such as trade wars, recession and rising interest rates topped institutions' list of risks coming into 2019, the report showed. Because ETFs disclose their holdings every day and trade on an exchange, investors can use them to quickly adjust their positions to counter these threats. Managers are increasingly using ETFs for tactical adjustments and risk management, the survey showed.
"As institutions implement the defensive portfolio strategies they are using in response to these risks, they are employing ETFs at a far greater rate than ever before," Andrew McCollum, a managing director at Greenwich Associates, wrote in the report.
Greenwich surveyed more than 180 institutions, ranging from registered investment advisers to insurance companies, between October and December. Over 70 percent of participants managed $1.1 billion or more, with 38 percent overseeing more than $10 billion.
As institutions become more sophisticated in their use of ETFs, their choice of funds has also evolved. About 60 percent of study participants said they invested in bond ETFs, up from 20 percent in 2017. Three out of every four respondents meanwhile use or are considering using factor-based ETFs; only 44 percent said they used these so-called smart-beta funds in 2017.
Bond ETFs saw more than $96 billion of inflows last year while factor-based funds added a record $86 billion, data compiled by Bloomberg show. Low-volatility stock ETFs -- which try to buy equities with a more stable price -- proved particularly popular, adding more than $9.5 billion
"As market volatility set in, institutions like insurers and pension plans were much more intentional about seeking factor strategies," said Holly Framsted, head of U.S. smart beta for BlackRock's ETF business. "More recently we're seeing investors evolve ETF applications in more sophisticated ways to actively express market views or to tilt toward precise factor exposures."