Volatility Returns to Normal and Signals That the New Year Rally Has Legs
(Bloomberg) -- Two signposts of the global volatility complex suggest the risk rally is set to endure.
After a rare month in which implied swings for the S&P 500 Index exceeded those for emerging markets stocks, the relationship has flipped back to its historic norm. And after blowing out several times last year, the spread between volatility expectations on the Nasdaq and the S&P is drifting lower, too.
The taming of these anomalies suggests the new-year buying binge is more than just the seasonal effect of investors returning from holidays with money to spend, according to Michael Purves, strategist at Weeden & Co.
It's a "sign that things are returning to some form of normal -- and arguably setting the foundation for a more sustained risk-on environment," Purves wrote in a note to clients this week.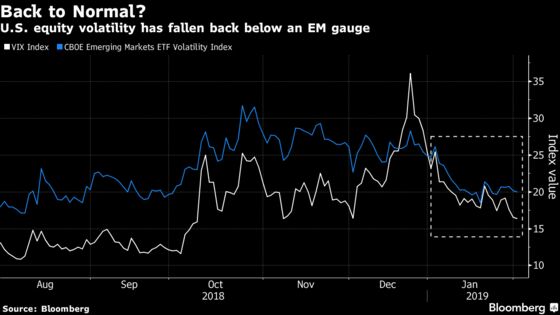 Despite the Fed delivering a gift to bulls this week in the form of renewed hesitation to raise rates, investors are desperate for clues on the sustainability of risk appetite. Hedge funds and ETF investors largely sat out the S&P 500's best month in more than three years, while other potential buyers may still be on the sidelines waiting to jump in.
As the U.S. turned into the epicenter of global market anxieties at the end of last year -- from trade to monetary tightening and an economic slowdown -- CBOE's VIX made a rare leap above a comparable gauge for emerging markets. This year, as stocks have rallied, it's reversed with the VIX averaging less than 20 while developing market stocks price in higher volatility to come.
Another metric showing a return to normalcy is the spread between implied swings on the Nasdaq and the S&P 500 indexes, according to Purves. The difference widened last year after the Cambridge Analytica scandal sparked privacy concerns about Facebook Inc., which bled into the rest of the FANGs.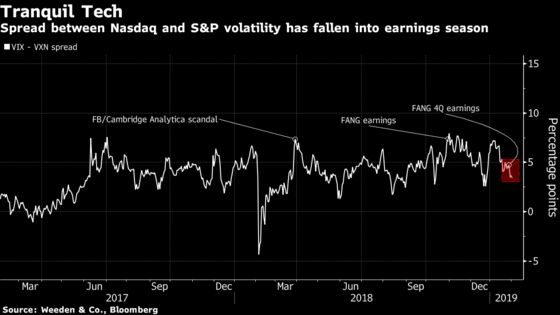 While it jumped during recent earnings seasons for tech names, the spread has actually been falling as software giants including Facebook and Apple Inc. report this time around.
"The broader inference here is that the risk premium for big tech stocks has now normalized,'' Purves wrote.