Volatility Set for Revival as Stimulus Peaks, Virus Flares
(Bloomberg) -- The outbreak of a more contagious Covid-19 strain and the prospect of less supportive U.S. monetary policy are pointing to the risk of a choppier path ahead for the equity bull market.
Strategists are warning on volatility but still expect more gains for stocks over 2021, arguing vaccines will help economies reopen. That mix would mark a shift from the first half, when the Cboe Volatility Index, or VIX, fell to pre-pandemic lows as the S&P 500 jumped 14% on a tide of liquidity.
"We are not complacent about the potential for trouble and investors shouldn't be, either," BCA Research strategists including Doug Peta and Sara Porrello wrote in a note on Monday. They reiterated their overweight recommendation for equities but warned on the need for "a detailed plan of action in the event of significant negative surprises."
A sense of fear may be evident in some corners of the market, with the Cboe Skew Index, which tracks the cost of tail-risk equity protection, close to a record. Concerns about virus variants and the eventual trimming of exceptional stimulus have long shadowed the bull market, but are becoming more urgent after global equities rallied almost 90% since March's pandemic lows.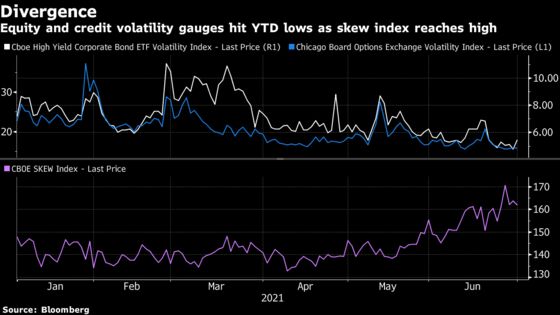 The picture varies by region too, as Asian stocks lag this year's rally in the U.S. and Europe. Markets are realizing they have to consider the risk of Covid-19 sticking around, and investors will reward countries with better vaccine capacity, helping to explain some of this disparity, according to Kyle Rodda, an analyst at IG Markets.
"We advise investors to brace for bouts of volatility ahead," Mark Haefele, chief investment officer for global wealth management at UBS Group AG, wrote in a note, while adding recent record highs aren't a barrier to further gains.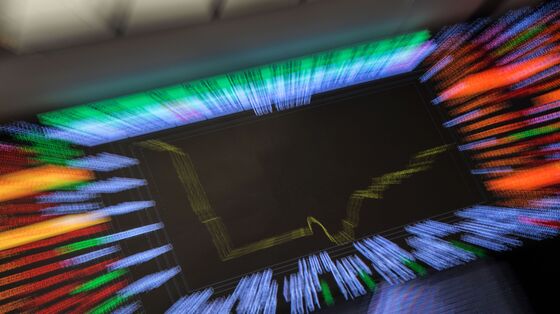 The outbreaks of the delta strain are a reminder that the battle against Covid-19 is far from over and that more troublesome variants remain a risk. Yet for now price pressures are building as the global economy reopens, leading multiple central banks to begin or consider the withdrawal of emergency stimulus.
"Strong markets stay strong," analysts at Fundstrat Global Advisors LLC, which was co-founded by Tom Lee, wrote in a note. The median second-half return is 9% in years when the S&P 500 rises by more than 13% in the first six months, they said. But they added July could be "brutal" because history suggests it tends to be a tough month after a strong first-half.
The proliferation of Covid-19 variants raises the chance of a "Black Swan" event, according to Viktor Shvets, head of Asian strategy at Macquarie Capital, referring to something unique and unexpected that has a major impact.
"Essentially one should be ready for high volatility of outcomes, as churning within and between asset classes and styles increases, even if headline indices remain flattish," Shvets wrote in a note.