VIX Shocks Like This Have Perfect Record of Signaling a Bounce
(Bloomberg) -- The historic pummeling in stocks on Thursday sent volatility skyrocketing in a way that has always preceded stock rebounds.
The Cboe Volatility Index, also known as the VIX, closed at the fourth-highest level ever recorded. The gauge has never hit such an extreme point without the S&P 500 "immediately and sharply" bouncing by more than 10% over the next day or two, according to Nicholas Colas, co-founder of DataTrek Research.
"That needs to happen either Friday or Monday, or we are truly in uncharted waters," Colas wrote in a note.
The trend looked set to hold. U.S. stock index futures rebounded on Friday, surging 5% to exchange-mandated limits that prevent further gains. Cash markets in Europe rose more than 8%.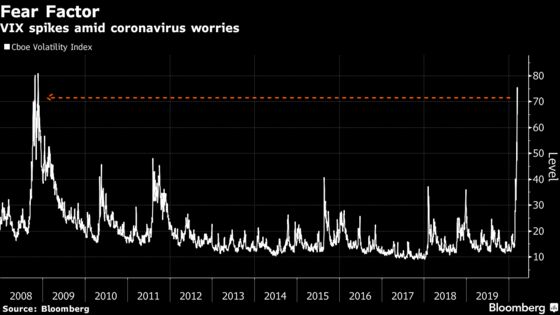 The spreading virus and historic oil-price shock have ushered in the most volatile period in markets since the financial crisis. The S&P on Thursday recorded its worst day in more than 30 years, with losses since its February high now exceeding 25%.
Measures of share turbulence have surged. On Thursday, the VIX closed above 75, a level surpassed by only three other dates -- all of them notched in 2008. The gauge has closed above 40 for five straight session and is on pace to do so again on Friday.
"We are definitely in a period of huge volatility," said Michael O'Rourke, chief market strategist at JonesTrading.
Going by historical precedent, investors can expect the S&P to rally today. After the 10 worst trading sessions in history, the S&P 500 bounced 2.9% the next day on average, according to Bespoke Investment Group.
Investors are looking to the Federal Reserve to fill the stimulus vacuum by supporting the economy and keeping markets functioning. The central bank ramped up the amount of cash it's prepared to inject into funding markets over the next month, promising a cumulative total above $5 trillion, in a signal that officials will do whatever it takes to keep short-term financing rates from spiking.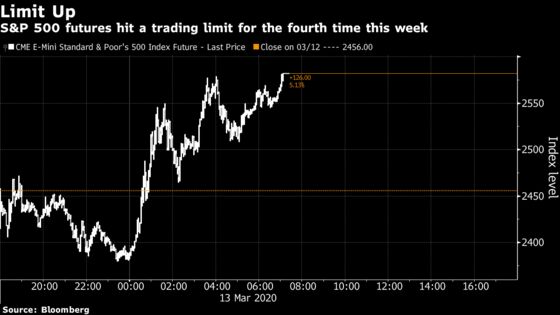 "The price action today will be fascinating. Do we get the 10:30 rally up a bunch then a fade? What happens between 3:30 and 4 p.m.? Would you hold risk over weekend?," Michael Purves, chief executive officer at Tallbacken Capital Advisors LLC. "I think the S&P 500 goes another 10% lower, just not in a straight line."