VIX Options Investors Pivot, Now Get Paid to Own Volatility
(Bloomberg) -- With the VIX on track to post its biggest weekly decline since April, owning volatility probably doesn't look like a very smart bet.
A strategy that appears to be emerging in the options market says otherwise. It differs materially from the one used by the trader dubbed "50 Cent," who became known in 2017 for paying about 50 cents for call options on the Cboe Volatility Index regardless of the strike price.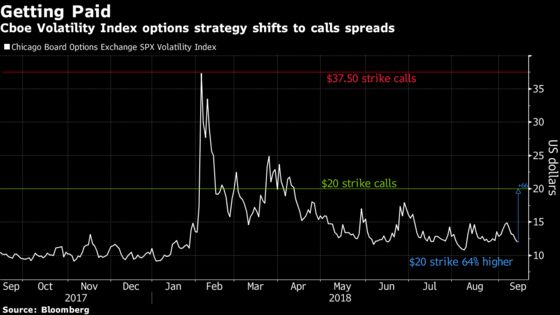 For the second day in a row, someone actually got paid to own options on the VIX, a measure of implied volatility for S&P 500 Index stocks. Early in Friday's session one investor bought 10,000 February $20 calls while simultaneously selling 40,000 February $37.50 calls, effectively collecting 20 cents per contract for the transaction.
It's a novel trade, considering the way the VIX has been moving lately. The index is trading around 12, having fallen 16 percent this week. The average level over the past five years is closer to 15.
In theory the lower strike calls should appreciate in value if the VIX moves closer to 20, approximately 64 percent higher than current levels. The $37.50 calls would appreciate as well, but the index would have to spike more than 200 percent in order to match the strike price. While such a huge spike isn't unprecedented, it is almost always short-lived, a view this trade confirms.
Similar to Thursday's trade, the ultimate goal is to profit off a surge in volatility. At the same time, if the VIX continues to drift sideways, the trade is still profitable.