VIX Meets Tough Resistance as Fears of 'Mini-Shocks' Persist
(Bloomberg) -- The stock market's fear gauge is struggling to breach a key resistance level despite nearing its lowest since the onset of the pandemic -- and such behavior has precedent.
The Cboe Volatility Index closed Monday at 20.03. That was its lowest since Feb. 12, the date on which it closed below 20 for the first time since the pandemic rout gripped markets last year. The index has had similar difficulties in breaching that level in other times of stress, according to strategists. It fell to 19.94 as of 8:28 a.m. on Tuesday in New York.
Susquehanna International Group derivatives strategist Chris Murphy pointed out the "pretty shocking" similarities between the VIX's behavior during the Global Financial Crisis and now, in a note dated Monday.
"Part of the reason the medium-term VIX futures are remaining elevated now is likely due to concerns regarding potential 'mini shocks,'" Murphy wrote.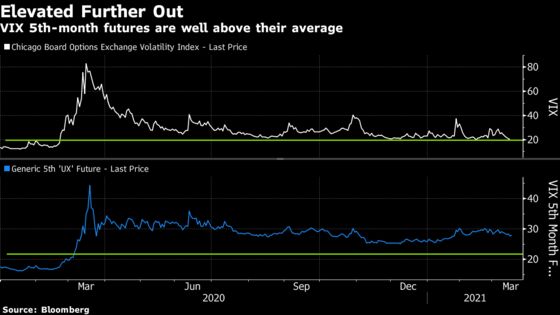 The 20 level on VIX has been seen for months as a key hurdle and compares with the gauge's five-year average of 17.7. Potential factors keeping it elevated include a dearth of volatility sellers and a raft of retail-investor activity in options.
VIX futures remained elevated in 2009 after the credit crisis, which turned out to be justified, according to Murphy. The VIX endured two more shocks afterward: the Flash Crash in 2010 and the European sovereign-debt crisis in 2011, he added.
Even as stock gauges such as the S&P 500 and MSCI All-Country World Index trade at or near record highs on optimism over the global recovery, market nerves remain elevated. AstraZeneca Plc's vaccine challenges, for example, are a reminder of the issues that can spring up.
"Risk-on behavior has been at a very high level for a prolonged period" Jason Goepfert, president of Sundial Capital Research Inc., wrote in a note Tuesday, adding that such bullishness usually leads to periods of uncertainty.
In six other instances he identified as being similarly bullish, the VIX "rose every time, and its average gain was substantial with a median gain of 34% and an average of 71%."