VIX Hits Seven-Week High Even as Bets Jump on Post-Election Calm
(Bloomberg) -- The Cboe Volatility Index climbed to its highest since early September on Monday, but traders continued to pile into bets on its eventual demise.
A sell-off in U.S. stocks amid the stimulus stalemate and resurgent coronavirus helped push the VIX up almost 5 points to 32.5 -- a level not seen since Sept. 8. But the 10-day moving average of total put volume relative to total call volume for the gauge -- a measure of demand for short volatility bets -- extended its recent rise to the highest in 14 years, according to data compiled by Bloomberg.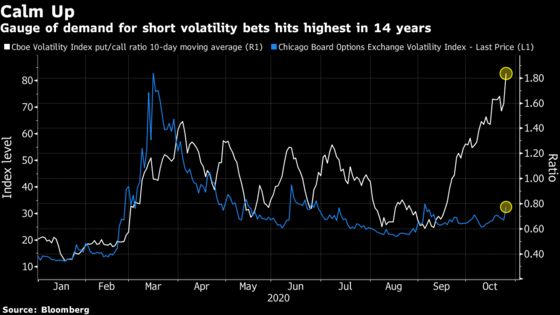 Investors are choosing to buy puts instead of sell calls likely due to the asymmetric risk of the election result, wrote Susquehanna derivatives strategist Chris Murphy in a note Monday. For a trader betting on a decline in volatility, selling a call would leave them exposed to a greater-than-expected spike in the VIX, he said.
"Higher VIX put volume has been a trend all month long as investors are positioning for a lower VIX after the election," Murphy wrote. "While it appears investors are relatively comfortable with either candidate, the major risk seems to be a contested election resulting in increased near term uncertainty."
For months, investors had worried about the potential for a delayed result to next week's election and the potential for recounts or even court challenges. However, a surge in the polls for Democrat Joe Biden over President Donald Trump has prompted traders to pull back from bets on prolonged uncertainty.
"We are seeing massive macro trades in VIX as well as the rates world essentially betting on lower volatility from December onward," RBC Capital Markets equity-derivatives strategist Amy Wu Silverman wrote in a note Monday.