The Bull's Guide to Energy: Taking Stock
(Bloomberg) -- With the market rally taking a little breather -- and now that no-deal Brexit is out of the picture at least until the end of October -- it's worth having a look at sector leadership, with some industries like mining and retail looking a bit stretched. There's one sector that seems to have some good upside left: energy.
Oil shares are set to outperform, according to Oddo strategist Sylvain Goyon, who upgraded the sector to overweight this week. "The market is desperately seeking ideas combining free cash flow, balance sheet strength and reasonable valuation," he writes in a note, highlighting that the sector offers all of that.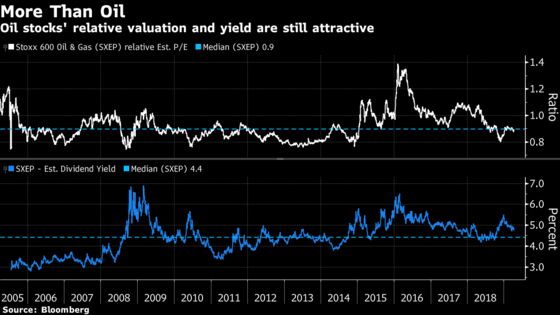 Indeed, the Stoxx 600 oil & gas index (SXEP) is still trading at reasonable absolute and relative valuation levels and provides an above-average dividend return. Oddo points out that the dividend is safe as the free cash flow yield forecast of the sector stands at 9 percent. Looking at futures, the market is pricing oil majors' payouts on the safe side.
Stock
2020 dividend
est. (local)
2020 dividend
swap (local)
Spread
Total
2.72
2.60
-5%
BP
33.60
30.75
-8%
RD Shell
1.70
1.58
-7%
Eni
0.88
0.84
-5%
Repsol
0.95
0.89
-6%
Source: Bloomberg
And there's more. The breakeven for oil majors currently stands at $50 a barrel, a level expected to drop to $45 in 2020, according to Oddo. Oil prices have been on the rise, with Brent trading above $70 this week for the first time since November, which could translate into earnings growth.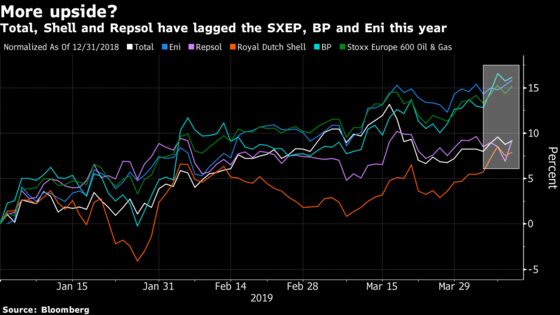 OPEC countries have shown discipline in cutting production, while U.S. shale oil may miss production targets this year. Further geopolitical tensions (Libya, Venezuela, Iran) are also likely to support prices. If you add that oil volatility is collapsing, it's no wonder bullish bets on oil have been on the rise.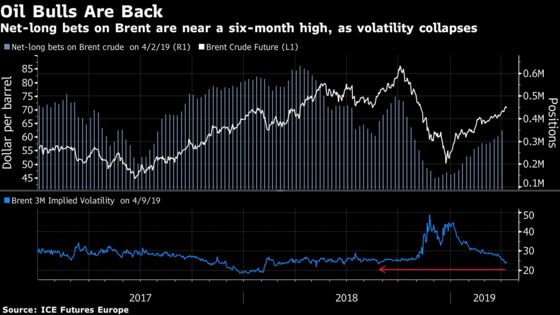 Macquarie analysts have increased their oil price forecast this week, highlighting a strong OPEC compliance and loadings deficit. They see Brent averaging $69 and $65 in the second and third quarter, respectively. They list their top picks as Total, OMV and Galp. Oddo favors Total and Royal Dutch Shell among majors, as well as Subsea 7 in services.
Saipem will kick off the earnings season for oil services on April 17, while Eni will be the first major to report on April 24. Ahead of the open, oil is down 0.4% and Euro Stoxx 50 futures are trading little changed.
Watch luxury stocks and spirits makers after LVMH reported 1Q sales that beat estimates after a "buoyant" start to the year, in particular at its soft luxury and wine & spirits divisions. Watch Kering, Hermes, Diageo, Pernod Ricard and Remy Cointreau, as well as Moncler and Burberry. Richemont and Swatch also could be active as LVMH's watch and jewelry division was the slowest growing.
Watch trade-sensitive shares as investors remain in the dark about a China-U.S. trade deal. So far, the two countries have "pretty much" agreed to open enforcement offices that will ensure each party sticks to the terms of said deal, U.S. Treasury Secretary Steve Mnuchin said.
Watch the pound and U.K. stocks as investors digest the news about the Brexit extension until October 31. It's shorter than some member states had argued for, due to French President Emmanuel Macron taking a hard line. But the postponement still sets U.K. Prime Minister Theresa May up for a backlash from euroskeptics at home, and she'll now need to figure out what exactly these six months will be used for.
Watch U.K. homebuilders as prospective home-buyers in Britain are anxious, sellers are reluctant and agents are struggling to negotiate agreements. That's the verdict of the latest survey from the Royal Institution of Chartered Surveyors, as its index of prices sits deep in negative territory, pointing to "modest" losses over the next two quarters, and citing Brexit as the major drag.
"The extension takes no-deal Brexit off the table for now, but successive short extensions are the worst case for business confidence and investment on both sides of the Channel," Citi strategists write in a note. "A snap U.K. election would further augment the range of outcomes with non-Brexit risks such as Labour's economic policies. We stress, however, that the U.K. economy has so far proved remarkably resilient to Brexit uncertainty and an extension should not change that."
LVMH's Designer Shuffle Pays Off as New Look Boosts Sales

LVMH 1Q Fashion, Leather Goods Organic Rev. Growth Beats Est.

Deutsche Börse in 'Concrete' Talks to Buy Refinitiv's FX Units
Nexi IPO Orders Below EU9 Per Share Risk Missing Deal: Terms
Gerresheimer Boosts Full Year Adjusted Ebitda Forecast
Acerinox in Talks With Tesla on Steel Supplies: Confidencial
Novartis Signs Commercialization Pact With Shionogi for Rizmoic
Nordea Sees Capital Gain of EU129M From LR Realkredit Stake Sale
Nykredit in Conditional Pact to Buy LR Realkredit
Hella 9m Adj. Ebit Margin Declines 0.1 Pts; Headwinds Strengthen
ASML Was Victim of Business Secret Theft, FD Reports
Sodexo 1H Adj. Op. Margin 5.9%; Confirms FY Outlook
Barry Callebaut First Half Sales 2.5% Above Estimates
Rio Tinto Says Chinalco Voted Against Plan for London Buybacks
UniCredit: Cash Outflow Could Be Required for Potential EU Fine
Oerlikon in Talks About Acquisitions, CEO Tells Handelszeitung
Arriva Disqualified From U.K. Rail Competition: Telegraph
NOTES FROM THE SELL SIDE:
Diageo's ambition to reliably deliver consistent sales growth, margin expansion and cash flow may "appear boring" but is "far from dull," Jefferies writes in a note upping its PT on the spirits company to 3,600p from 3,300p, and reiterating its buy recommendation. Diageo can still deliver total shareholder returns in the low double digits, an attractive feature for a core consumer staples stock, the broker said.
Morgan Stanley cut Engie cut to equal-weight from overweight, arguing that growth targets at Feb. strategy day were below expectations and co. faces headwinds in 2019. Investors are likely to await evidence of delivery before any re-rating of the shares occurs.
The European utilities sector is among the most overbought and expensive in the market, Morgan Stanley strategists and analysts say in note, downgrading to neutral. Performance, valuation and positioning all seem elevated against historical levels, while earnings momentum is fading. Says utilities have never outperformed in the six months after a trough in eurozone PMI, while the sector could also be vulnerable to rising bond yields.
Handelsbanken and Swedbank are seen having tactically best 1Q resilience relative to consensus on core momentum, Morgan Stanley says in a note ahead of the upcoming earnings season. On the other hand, Nordea and Danske are seen having most negative revisions risk.
TECHNICAL OUTLOOK for Stoxx 600 index:
Resistance at 392.7 (July high); 403.7 (100% Fibo)
Support at 385.7 (76.4% Fibo); 374.5 (61.8% Fibo)
RSI: 64.2
TECHNICAL OUTLOOK for Euro Stoxx 50 index:
Resistance at 3,516 (76.4% Fibo); 3,596 (May high)
Support at 3,403 (61.8% Fibo); 3,309 (50% Fibo)
RSI: 64.5
MAIN RESEARCH AND RATING CHANGES:
UPGRADES:
EssilorLuxottica upgraded to neutral at Citi
IWG Upgraded to Buy at Peel Hunt
KAZ Minerals upgraded to buy at Goldman; PT 8 Pounds
Lancashire upgraded to buy at Berenberg
Leroy upgraded to buy at SEB Equities; PT 70 Kroner
Air Liquide cut to sell at Baader Helvea; Price Target 110 Euros
Akzo Nobel downgraded to hold at Baader Helvea; PT 82 Euros
Aurubis downgraded to sell at Goldman; PT 45 Euros
Boliden downgraded to sell at Goldman; PT 230 Kronor
Covestro cut to sell at Baader Helvea; Price Target 48 Euros
DNB downgraded to hold at SEB Equities; PT 172 Kroner
DSM downgraded to hold at Baader Helvea; Price Target 102 Euros
Dios downgraded to hold at Kepler Cheuvreux; PT 77 Kronor
Engie downgraded to equal-weight at Morgan Stanley; PT 14 Euros
Glencore downgraded to neutral at Goldman; PT 3.20 Pounds
Hiscox downgraded to hold at Berenberg
Kongsberg downgraded to hold at Pareto Securities; PT 135 Kroner
Lanxess downgraded to sell at Baader Helvea; PT 45 Euros
NET Insurance cut to reduce at Kepler Cheuvreux; PT 3 Euros
Nabaltec downgraded to hold at Baader Helvea; PT 31 Euros
Nyfosa downgraded to hold at Kepler Cheuvreux; PT 59 Kronor
Ocado downgraded to reduce at HSBC; PT 9 Pounds
REC Silicon cut to hold at Kepler Cheuvreux; PT 0.70 Krone
Rio Tinto downgraded to underperform at Exane
Saipem cut to underperform at Jefferies; Price Target 4.40 Euros
Subsea 7 cut to hold at Jefferies; Price Target 120 Kroner
Whitbread downgraded to equal-weight at Morgan Stanley
Alcon rated new buy at SocGen; PT 67 Francs
Alcon rated new hold at Spin-Off Research
Dixons Carphone reinstated overweight at Barclays
FNAC rated new overweight at Barclays; PT 90 Euros
MSCI Asia Pacific down 0.2%, Nikkei 225 up 0.1%
S&P 500 up 0.3%, Dow little changed, Nasdaq up 0.7%
Euro up 0.06% at $1.1281
Dollar Index down 0.04% at 96.91
Yen down 0.05% at 111.06
Brent down 0.4% at $71.4/bbl, WTI down 0.5% to $64.3/bbl
LME 3m Copper down 0.3% at $6442/MT
Gold spot little changed at $1307.9/oz
US 10Yr yield up 1bps at 2.47%
MAIN MACRO DATA (all times CET):
8:45am: (FR) March CPI EU Harmonized YoY, est. 1.3%, prior 1.3%
8:45am: (FR) March CPI MoM, est. 0.8%, prior 0.8%
8:45am: (FR) March CPI EU Harmonized MoM, est. 0.9%, prior 0.9%
8:45am: (FR) March CPI Ex-Tobacco Index, est. 103.4, prior 102.7
8:45am: (FR) March CPI YoY, est. 1.1%, prior 1.1%
10am: (EC) ECB Survey of Professional Forecasters