Virus Dread Roils Canada's Stocks as Growth Fear Bites
(Bloomberg) -- The virus outbreak that rattled global markets this week shook some of Canada's stock pillars.
While the nation hasn't yet reported any coronavirus case, the disease rekindled memories of the severe acute respiratory syndrome, or SARS, that killed almost 800 people about 17 years ago, including 44 in Canada. Back then, travelers avoided Toronto -- which had the most deaths from the illness outside Asia -- spurring quarterly losses for airline behemoth Air Canada.
That explains part of this week's violent reaction from traders, who sent the stock tumbling the most since December 2018. The other reason is economic. Mounting concerns that the deadly disease could further crimp demand from China -- where the virus originated -- sank commodity prices. As a result, heavy-weight Canadian energy companies posted weekly losses of as much as 15%, joining a plunge in some of the nation's mining giants.
The virus scare almost wiped out weekly gains in Canada's stock benchmark, adding to concern over a further deterioration of the nation's fragile economy. Lackluster consumer spending was one of the main reasons the Bank of Canada abruptly changed messaging at an interest-rate decision Wednesday, as officials expressed concern that a sharp economic slowdown in the fourth quarter may persist.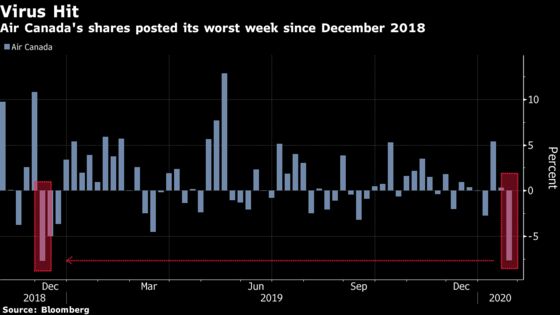 Air Canada plunged about 8% on the week. During the outbreak from 2002-2003, the World Health Organization imposed a travel advisory on Toronto due to an outbreak in the nation's biggest city.
Baytex Energy Corp. and Enerplus Corp. tumbled as oil sold off. Lundin Mining Corp., Taseko Mines Ltd. and Teck Resources Ltd. paced losses in industrial metal miners as the price of copper sank on concerns that global growth could slow.
Should the disease become an epidemic, it could drag down consumer discretionary stocks:
Canada Goose Holdings Inc. and Gildan Activewear Inc. could see a decline in earnings.
On the flipside, Maple Leaf Foods Inc. could fetch higher pork prices should the virus hit animal products in China, creating a deficit.
Imax Corp., a Mississauga, Ontario-based company listed in the U.S., received about 30% of its 2018 revenue from China. Its stock slumped about 13% this week.
Markets -- Just The Numbers
| | |
| --- | --- |
| Stocks | The S&P/TSX Composite was little changed. Investors will focus on fourth-quarter profits as earnings season gets into full swing, with Canadian National Railway Co. and Canadian Pacific Railway Ltd. reporting on Jan. 28 and Jan. 29 respectively. |
| Bonds | The Canadian two-year bond yield fell for a fourth day to 1.49%, while the 10-year yield slipped to 1.36%. Click here for our weekly bond wrap. The Canadian aggregate bond index is having its best week since September, and is the top performer this year of the 20 main gauges tracked by Bloomberg Barclays, with 1.99% gain. |
| Loonie | The Canadian dollar weakened against the U.S. dollar by 0.6% for the week. |
Bank of Canada Governor Stephen Poloz said the door is open for interest rate cuts if the current economic slowdown persists. While the central bank left the key rate unchanged at 1.75%, Poloz said growing slack in the economy threatens to damp inflation pressures.
Still, retail sales numbers released Friday helped ease some concerns about recent weakness in household spending. About 0.9% more goods were sold in November, largely offsetting October's 1.1% decline:
"The beat on expectations looks less impressive in the details: auto sales revived, but most everything else was pretty weak. This print doesn't change our view that momentum significantly weakened in Q4 and portends rate cuts from the BOC." -- Brett House, deputy chief economist at Bank of Nova Scotia.
Up next, November gross domestic product and December industrial product price data are due on Jan. 31.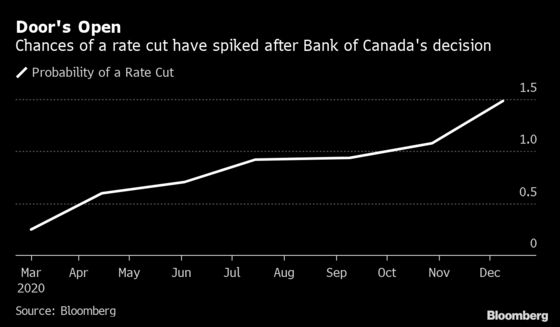 Parliament resumes Monday after Christmas break, with ratification of the new Nafta the first order of business. Deputy Prime Minister Chrystia Freeland said on a Bloomberg Television interview in Davos, Switzerland, the new Nafta is a priority in parliament and the nation can achieve cross-party support for the legislation.
Finance Minister Bill Morneau also said in a Bloomberg interview in Davos that the choice of the next Bank of Canada governor will be made in the "not-too-distant future" and whoever replaces Poloz will need to continue to invoke confidence in markets.
A Winnipeg bakery blasted critics after Prime Minister Justin Trudeau stopped by the store to purchase donuts during a government retreat in the province. Twitteratis lambasted Trudeau for paying for pricey donuts when he could have spent less at Tim Hortons.