Virus Has Oil Traders Seeking Ships to Hoard Unsold Crude
(Bloomberg) -- Oil traders and sellers are making more inquiries for supertankers to hoard crude at sea in the latest indication of the crushing impact the coronavirus is having on demand in the world's biggest importer.
A growing interest in short-term time charters for use as floating storage has emerged in the past week, said traders, shipowners, and a shipbroker in Asia who asked not to be identified due to company policy. Sellers have been scrambling to secure alternative buyers for their oil this week as Chinese consumption plummeted due to the virus, prompting refiners to seek to defer cargoes as they cut runs and even shut down.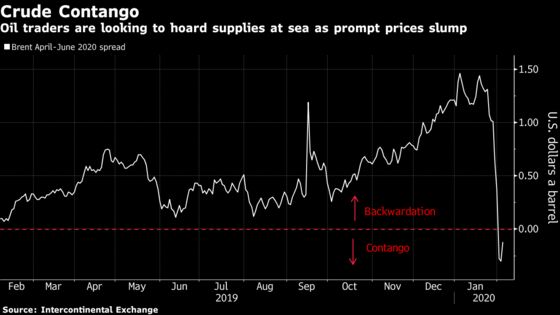 Supplies of crude for prompt delivery into Asia are ample, leaving traders with few other options to place their cargoes. A key global oil benchmark also flipped into contango, a market structure that allows traders to profit by hoarding oil to take advantage of higher prices in the future. Floating storage wasn't an attractive proposition for most of 2019 as output curbs by OPEC and its partners tightened near-term supplies and kept London's Brent crude in backwardation, when prompt prices are higher.
Floating storage isn't profitable on its own yet, as the relatively small contango in Brent's one- and two- month timespreads isn't sufficient to cover chartering costs, traders said. However, the loss from booking an older vessel for floating storage is smaller than the loss for paying demurrage on a new supertanker while waiting to deliver a delayed cargo.
Two operators of supertankers, whose vessels can transport hundreds of millions of barrels of crude, also reported increased interest in storing cargoes since the virus-driven crude-price slump. Senior officials from both asked not to be identified discussing their customers' business.
Very-large crude carriers used for floating storage tend to be older, less sea-worthy and therefore cheaper to charter, currently costing about $25,000 or less a day, said two shipbrokers in Asia. Demurrage for a newer VLCC is about double that.