Virus Fears Propel VIX to Biggest Daily Surge Since Volmageddon
(Bloomberg) -- The Cboe Volatility Index surged to its highest in more than a year Monday as renewed fears about the coronavirus outbreak battered risk assets.
The VIX, also known as Wall Street's "fear gauge," rose 8 points to close above 25 -- its biggest jump since the February 2018 "Volmageddon" meltdown. It was the third straight day of gains for the index and, in percentage terms, its seventh-biggest move ever.
"Options traders are suddenly pricing in the potential for wider swings over the next 30 days," Sundial Capital Inc. President Jason Goepfert wrote in a note Monday. "Other jumps of more than 45% preceded mixed returns over the next couple of weeks, before turning more positive."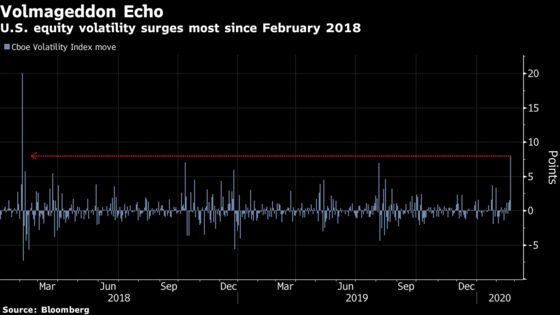 The surge in volatility came amid a sell-off in U.S. stocks, with the S&P 500 Index dropping the most since February 2018 on Monday, as authorities struggled to keep the coronavirus from spreading more widely outside of China. Havens including Treasuries, the yen and gold pushed higher.
Meanwhile, the VIX's term structure inverted, with the spot level trading above futures prices, signaling that investors are more nervous about the present than the future.
"Historically, a term structure inversion is an indicator that a bulk of the bad news and fear are being priced in and can be a buying opportunity," Chris Murphy, Susquehanna International Group LLP's co-head of derivatives strategy, wrote in a note Monday. The unknown of coronavirus is "a major roadblock, however," he added.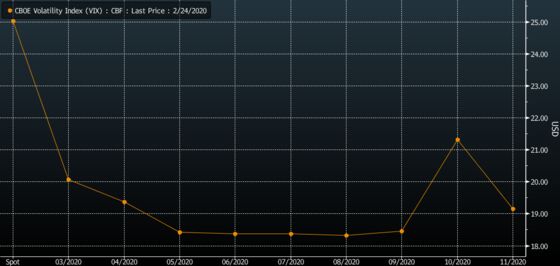 The move higher in the VIX could continue, with technical analysis pointing to 28.8 and 36 as the next key levels of potential resistance, said Citigroup Inc. strategists Bill O'Donnell and Edward Acton.