Virus Fears Are Spurring Volatility in Everything But Currencies
(Bloomberg) -- The coronavirus is offering traders and investors a lesson in just how entrenched low volatility has become in the currency market.
The rapid spread of the illness and mounting death toll has rocked other corners of the financial world in recent days, sending expected price swings across equities and bonds to the highest in months and playing havoc with raw materials.
Yet a global gauge of implied foreign-exchange volatility has ticked up only slightly. It remains a few basis points from the lowest-ever level that it recorded in January, and well below its 252-session average.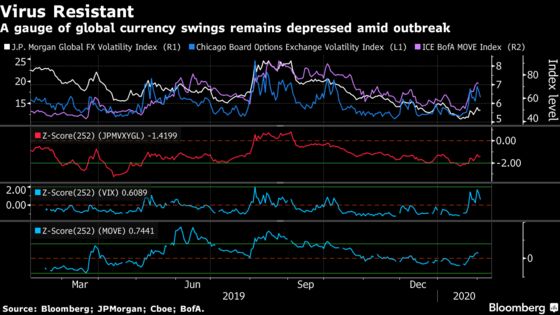 "The disconnect between global markets and FX vol pricing continues, with the latter displaying little reaction to the risk that coronavirus could turn into a world epidemic," JPMorgan Chase & Co. strategists including Lorenzo Ravagli wrote on Friday. "FX spot variables have recently displayed a more contained sensitivity to a set of well-known global market factors, de facto capping the potential for a repricing of FX vol levels themselves."
It's all a reminder of the structural shifts that have driven a multi-year trend toward tranquility in currencies. Monetary policies across the world, arguably one of the biggest factors dictating foreign exchange, have been relatively coordinated as central banks seek to avert a global slowdown. Meanwhile, the U.S. has stepped up efforts against countries it believes manipulate their exchange rates.
Still, the calm may be broken by potential risk events this week including the outcome of the Iowa Caucuses that presage the Democratic leaders of the 2020 presidential race to the release of U.S. employment data Friday, not to mention the continuing toll of coronavirus.
"The first month of the year has seen ultra-low volatility increase a little thanks to the coronavirus," Steve Barrow, head of G-10 strategy at Standard Bank, wrote on Tuesday. "This issue and more should help to keep volatility more elevated."
The full foreign-exchange impact of the virus won't be clear until the peak of the illness, he said, after which there could be a recovery in commodity-linked currencies.