Virus Fallout Lays Bare Vulnerability of Persian Gulf Assets
(Bloomberg) -- It's been a one-two punch for Gulf markets this year. First came the flare-up when the U.S. assassinated one of Iran's top generals. Now, the region's stocks and bonds are suffering the economic fallout from the coronavirus.
Valuations in the six-nation Gulf Cooperation Council were stretched heading into 2020, making them vulnerable to a decline in risk appetite, according to Tellimer, a brokerage focusing on frontier markets.
The virus-triggered plunge in oil threatens to crimp revenues for the region, while trade and tourism could also be hit. In the United Arab Emirates, business conditions worsened for the first time in over a decade in January, according to IHS Markit.
"Across the GCC, growth remains quite anemic," said Hasnain Malik, Tellimer's Dubai-based head of equity strategy. "I don't see any of the GCC markets as compelling for a global investor."
Brent crude has fallen 16% this year to about $56 a barrel. That's below the price Saudi Arabia, the U.A.E., Oman and Bahrain need to balance their budgets, the International Monetary Fund estimates.
Read: SAUDI INSIGHT: Two Headwinds to Recovery - Virus And Austerity
Stocks in Kuwait, which MSCI Inc. will add to its main index for emerging equities this year, and in Saudi Arabia, which are already included, have fallen since mid-January. But they are still more expensive than their average trading levels over the past 18 months.
The price-to-earnings ratio based on forecasts for the next 12 months is around 16 for both countries, versus less than 13 for MSCI's index for developing-nation equities. Qatari stocks also trade at a premium.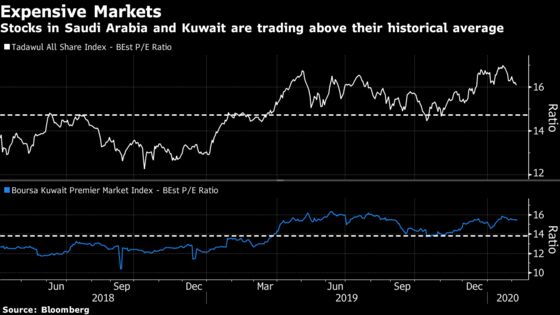 While stocks in Oman and Dubai are cheaper, they're "riskier," said Tellimer's Malik. Oman is the most exposed regionally to the slump in oil given the higher price needed for the sultanate to balance its budget and the lack of guarantees that Arab nations would rescue it from a crisis, he said.
Dubai, one of the seven emirates in the U.A.E., is grappling with oversupply in its property market. Flight disruptions to China will also affect the U.A.E.'s transport and logistics sector, which accounts for about 8% of the nation's non-oil economy, according to lender Emirates NBD.
Higher-yielding bonds sold by Oman and Bahrain will probably underperform the investment-grade debt of Saudi Arabia, Abu Dhabi and Qatar, said Sergey Dergachev, a senior money manager at Union Investment Privatfonds GmbH in Frankfurt.
There's little incentive for investors to buy Bahrain's debt. The extra yield that the island kingdom's bond due 2029 offers over Saudi Arabia's debt of similar maturity is about 80 basis points lower than the recent peak in June.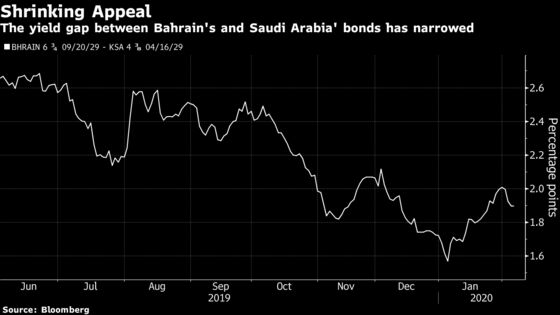 The Persian Gulf selloff will likely be less discriminate should geopolitical tensions spike again, Dergachev said. The region's debt is already trailing returns in emerging markets this year, following a record 15% rally in 2019, according to Bloomberg Barclays indexes.
"The region is valued slightly on the richer side," said Dergachev.
Still, the window hasn't slammed shut for borrowers. Qatar is considering selling bonds to global investors as soon as the first quarter, according to people with knowledge of the matter. It hasn't come to the market since March last year.
"The all-in yields remain attractive for issuers to front-load their budgetary funding," said Angad Rajpal, the head of fixed income at Emirates NBD Asset Management in Dubai.