Virus Angst Jars Market Where Stock Skeptics Are in Short Supply
(Bloomberg) -- For an idea of how extended positioning has gotten in stocks of late, consider that the big debate in the equity market this month hasn't pitted bull against bear, but bull against bull, over which companies, value or growth, would lead the next upward leg.
And while that discussion may resume after investors collect themselves from the damage, on Monday the short answer was neither: virtually all stocks tumbled as signs of resurgent coronavirus and a sales warning from a major software company shocked a market where optimism has reached some of the highest levels in years.
Trading volume in declining securities on the New York Stock Exchange accounted for 89% of total volume, a rout not seen since June. In the past two years, such a torrid rate of selling led to further declines, including in October 2018, May 2019 and this February, according to SentimenTrader.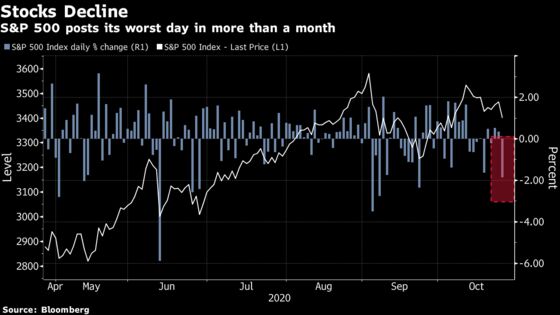 Readings like that could be a sign both professional managers and individuals have run out of bandwidth to buy after jacking up purchases over the last few months. While such enthusiasm has helped drive giant turnarounds in the S&P 500 and Nasdaq 100 this year, they also contribute to volatility when the market is hit with bad news.
There was bad news aplenty on Monday. U.S. Covid-19 infections have hit a record in recent days. Europe took a step closer to the strict rules imposed during the initial wave of the pandemic, with leaders struggling to regain control of the spread while confronting growing opposition to restrictions. That prompted SAP SE to warn its sales will be hit through the first half of 2021. Add the dimmed prospects for government aid from Washington before the presidential election, and it's a recipe for turmoil.
"You really can't blame the stock market for pulling back at any point given how far it's come," said David Donabedian, chief investment officer of CIBC Private Wealth Management. "It's like a blast from the past -- there's rising concerns about Covid and its impact on the economy."
The S&P 500 fell 1.9% as energy producers, industrials and financial firms led a broad retreat, dragging the benchmark gauge below a key technical level, its average in the last 50 days. More than 90% of S&P 500 stocks dropped. The Dow Jones Industrial Average lost 2.3%, with Apple Inc. the only member to finish in the green.
"The double whammy of a stalled stimulus bill and new highs in cases is a harsh reminder of the many worries that are still out there," said Ryan Detrick, chief market strategist for LPL Financial. "Most of the recent economic data has been strong, but when you see parts of Europe going back to rolling shutdowns, it reminds us this fight is still far from over."
A Bloomberg basket of stay-at-home stocks including Zoom Video Communications Inc. and Amazon.com Inc. outperformed a basket of reopening stocks that holds airlines, cruise lines and hotels by roughly 4 percentage points, after lagging for four days. Royal Caribbean Cruises Ltd, Norwegian Cruise Line Holdings, Carnival Corp and Alaska Air Group Inc each fell at least 7%. Meanwhile, shares of Zoom rose 1.2%.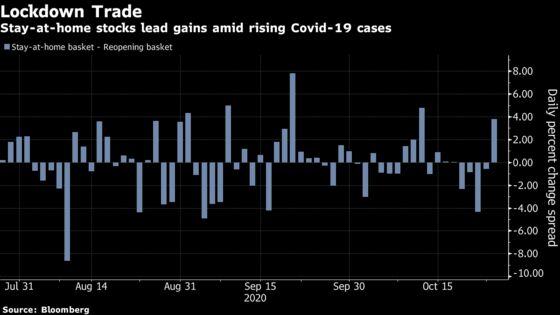 The reversal was a blow to investors who have embraced prospects for a sustained economic recovery amid positive news on vaccines. Hedge funds, in particular, have started warming up to the reopening trade since July, with their purchases accelerating recently, according to data compiled by Goldman Sachs Group Inc.'s prime brokerage unit. Last week, they were net buyers of reopening stocks for a third straight time while trimming holdings in stay-at-home companies for four weeks in a row, Goldman data showed.
Across the board, measures of investor enthusiasm for stocks have been surging. As stocks quickly bounced back from the September rout, money managers went on a shopping spree, according to a survey by the National Association of Active Investment Managers. NAAIM's exposure index, tracking advisers from 200 firms, fell to a four-month low of 53% in early September and hit 103% earlier this month, the second-highest level in two years. Money managers in Bank of America's latest survey demonstrated a similar urge to put money to work, cutting their cash holdings to the lowest level since March.
Hedge funds that make both long and short bets on equities have seen their net leverage, a measure of industry risk appetite, hover near 58%, a reading that stands in the 99th percentile of a three-year range, data compiled at Goldman's prime brokerage unit showed.
When everyone leans bullish, there are few buyers left and that makes for more dramatic down days. Since the S&P 500 reached its all-time high in early September, the index has averaged a decline of 1.3% whenever it fell. That's about twice as worse as the market experienced during the previous two months. Of course, those losses have almost always been short lived.
"The gains we made from an economic standpoint have been predicated on the feeling like we can start to deal with the virus and continue the economic recovery out of the bottom," said Keith Buchanan, portfolio manager GLOBALT Investments. "It's a scary moment from an economic standpoint to have all of those indicators that the virus is getting worse as stimulus seems to be slowing down very dramatically."