Virgin Galactic Has New COO, a New Ship and a Surging Stock
(Bloomberg) -- Virgin Galactic Holdings Inc. has surged 29% since Jan. 1 as the company prepares to fly its first space tourists in 2020.
Investors are also betting that Virgin Galactic, founded by entrepreneur Richard Branson, will be one of the first companies to offer point-to-point hypersonic travel, one day potentially reducing intercontinental flights to less than three hours. In a December report, Morgan Stanley analysts valued that market at $800 billion by 2040, dwarfing the space tourism business.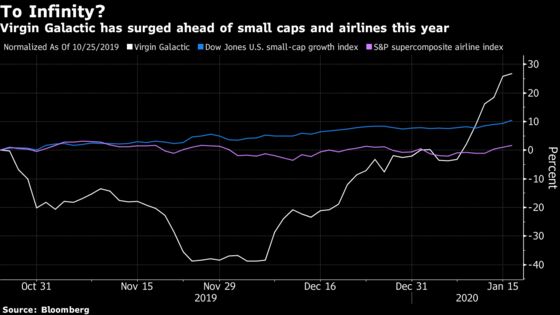 Virgin announced last week that its second commercial ship had reached a "weight on wheels" assembly milestone considerably faster than it took to get to the same stage with its first spaceship. Work on a third ship has begun, the company said.
Virgin Galactic aims to have five spacecraft in service by the end of 2023 operating from its base at Spaceport America in southern New Mexico. That's where customers will gather later this year to board the company's first commercial flight.
On Wednesday, the company named Enrico Palermo as its chief operating officer. Palermo was president of its manufacturing unit, Spaceship Co.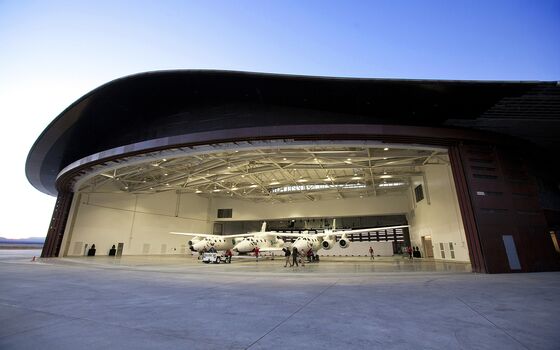 Virgin Galactic rose 0.7% to $14.94 Thursday in trading in New York.
The company debuted on the public markets on Oct. 28 and rose to more than $12 before dipping to a low of $7.22 in late November. The stock began rising again in mid-December, finishing the year at $11.55. Morgan Stanley assigned a $22 target price for the shares on Dec. 19.
The surge last month came after the management team made the rounds of analysts to tell its story, Alex King, founder of Cestrian Capital Research, wrote in a Jan. 13 note. King owns Virgin Galactic shares personally.
The company has been doing a good job highlighting its future opportunities, said Steven Jorgenson, general partner at Starbridge Venture Capital.
"Talking about strong customer demand and of opening up ticket reservations again has been a good strategy while they're still in a bit of an operational grace period ahead of regular customer launches later this year," he wrote in an email.
The company has a backlog of 600 people who have placed deposits for a trip on a spaceship, and collected information from another 3,500 potential customers who have expressed interest in the flights, Palermo said in an interview.
"We continue to see that number tick up every month," he said. "We're very comfortable with demand for that market."
Virgin Galactic hasn't decided whether it will resume taking reservations before or after the commercial flights commence, Palermo said.
In November, Virgin reported losing about $128 million for the period through Sept. 30. King labeled the stock "speculative" given the company's early stage. Virgin Galactic has raised more than $1 billion since it was founded in 2004, initially from Branson, with an Abu Dhabi investment company taking a stake in 2010.