Vietnam Sees Inflation Risks Along With 6.5% GDP Growth in 2021
(Bloomberg) -- Vietnam's economy remains on track to meet the government's goal for the year, with officials bracing for a resurgence of demand that could send inflation to its highest level in years.
Gross domestic product can still notch the 6.5% growth the government expects this year, according to Le Trung Hieu, head of the General Statistics Office's GDP department. He pointed to signs showing the recovery is continuing, including gains in exports and foreign direct investment.
Fresh outbreaks of Covid-19 in some parts of the country caused difficulties in the first quarter, when the economy grew 4.48% from a year earlier, the same pace as the last quarter of 2020, statistics office head Nguyen Thi Huong told reporters in Hanoi. Economists surveyed by Bloomberg were expecting 5.7%.
"The undershoot in Vietnam's first-quarter GDP is not quite a cause for alarm given that for all the uncertainty about a bumpy and uneven recovery globally and in Asia, Vietnam is still set to outperform" most of the region, said Vishnu Varathan, head of economics and strategy at Mizuho Bank Ltd. in Singapore. While there may be some hiccups due to supply-chain disruptions, "the chip supply shortage will probably translate into catch-up production on the downstream, with Vietnam's exports likely to continue to boost growth recovery."
Vietnam's was one of the few economies in the world that didn't contract last year amid the pandemic. Earlier this month Moody's Investors Service raised its outlook for Vietnam to positive from negative while affirming its Ba3 rating, saying the country stood to benefit from global shifts in production, trade and consumption after the pandemic.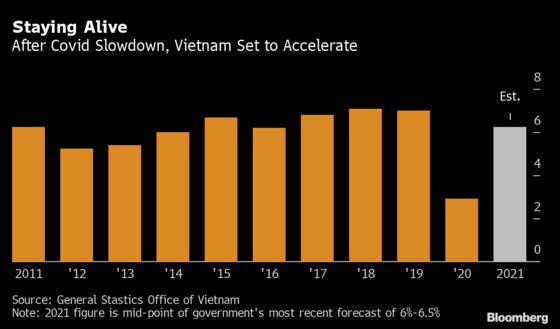 In response to Moody's move, the Finance Ministry pledged to "continue to pursue policies that ensure macro-economic stability and improve economic competitiveness." Parliament has set an official target of 6% growth this year, but the government hopes to push it as high as 6.5%.
"Vietnam's economy lost a little momentum in the first quarter due to a renewed virus outbreak, but with the latest wave quashed and most restrictions now lifted, the economy should bounce back strongly over the coming quarters," Gareth Leather, senior Asia economist for Capital Economics, wrote in a research note.
However, the revival of demand locally and globally could push inflation as high as 7.8% by December, officials said. That would be its highest level since 2012, according to data tracked by Bloomberg, far beyond the 4% target for this year.
Nguyen Thu Oanh, head of the office's inflation department, said price pressures may quicken toward the end of the year amid higher oil prices and with domestic and global demand expected to increase. The government will have to avoid raising prices of some public services, such as education and health care, to curb inflation toward the end of the year, she said.
Other details from the report:
Exports rose 19.2% in March compared to a year earlier, while imports climbed 27.7%. The country ran a $400 million trade surplus for the month, below expectations of $1 billion
Consumer prices rose 1.16% on-year in March
For the January-to-March period, exports increased 22% from the previous year, and imports gained 26.3%
Manufacturing -- particularly of electronic equipment, phones and accessories -- was the main driver of first-quarter growth, up 9.45% from a year earlier
Pledged FDI rose 18.5% in the first quarter year-on-year, while disbursed FDI was up 6.5%
Bank lending rose 1.47% from the end of 2020 through March 19, compared with 0.68% in the year-earlier period