Trade War Has Vietnamese Companies Raising Capital With Bonds Over Stocks
(Bloomberg) -- Vietnamese companies have been moving to bond sales from equities for capital raising as trade tensions triggered stock market volatility.
Local companies raised about 117 trillion dong ($5 billion) from bond sales in the first eight months of this year, with the scale accounting for about 11% of Vietnam's economy versus 8.6% for all of 2018, SSI Securities Corp. wrote in a note to investors. Share sales fetched only $45.1 million in the period, equal to just 6.4% of their value a year earlier, data compiled by Bloomberg shows.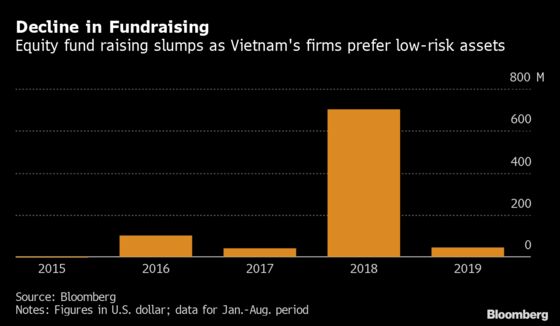 "The appetite for risk assets has fallen due to the uncertainties in the stock market as a result of trade friction, so some companies decided to go to the bond market to raise funds," said Hoang Viet Phuong, the Hanoi-based head of institutional research & investment advisory at SSI. "The corporate bond market has been quite active lately," she added.
The U.S. has been increasing pressure on Vietnam to reduce its growing trade surplus, including increasing the duty on steel imports that it alleges originated elsewhere. Dependence on exports makes Vietnam vulnerable to the surge in protectionism, with shipments to America equaling 20% of gross domestic product last year and almost 26% in the first half of 2019.
Vietnam equity auctions that targeted raising as much as about $186 million have been canceled so far this year, according to data compiled by Bloomberg.
The nation's equity benchmark VN Index lost 3.1% in the second quarter, the biggest quarterly loss since the the last three months of 2018, as intensifying trade tensions deterred investors from holding equities. The broader MSCI Asia Pacific Index added 0.2% in the second quarter, also its worst three months since the end of last year.
Vietnam has also seen a dip in the value of trading. The daily average value of stocks changing hands on the Ho Chi Minh City Stock Exchange this year through Sept. 3 totaled $172 million, 29% lower than a year earlier, according to Bloomberg data, while 100-day volatility on the benchmark is at the lowest level since Dec. 2017.
"Companies recognized less turnover daily in the equity market and they are waiting for a recovery to issue more shares," said Patrick Mitchell, director of institutional equities at ACB Securities Company Ltd. in Ho Chi Minh City.