Venezuela Oil Output to Plunge by Year-End, U.S. Envoy Predicts
(Bloomberg) -- The U.S. envoy for Venezuela forecast that Venezuela's oil output would drop to 500,000 barrels a day by the end of the year if President Nicolas Maduro is able to cling to office, although he avoided predicting when the regime might collapse.
In a congressional hearing that grew testy over his role in Central and South American during the Reagan administration, Elliott Abrams said Maduro and his "band of thieves" have come under enormous pressure since the U.S. declared his rule illegitimate and recognized National Assembly leader Juan Guaido as Venezuela's interim president.
Venezuela's oil production already has dropped from 3 million to 1 million barrels a day as the country's economy collapses.
"We believe the current political and economic environment is unsustainable and he will not be able to weather it much longer," Abrams said at the House Foreign Affairs Committee hearing. He said there's "a lot of discontent" in Venezuela's military, though he declined to discuss whether or when army officers would abandon Maduro's regime.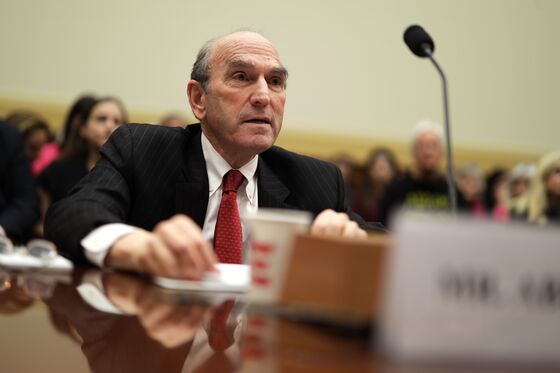 The U.S. has imposed sanctions on Maduro's regime and the country's state-owned oil giant, PDVSA, in the effort to pressure him to leave power. Sandra Oudkirk, a deputy assistant secretary of state in the Bureau of Economic Affairs, said at the hearing that the PDVSA sanctions would be lifted once the U.S. can guarantee oil revenue doesn't benefit Maduro.
As the hearing wound down, Abrams came under sustained criticism from a succession of Democratic lawmakers over his role in the region in the 1980's, when he was a top State Department official for Central and Latin America.
Representative Ilhan Omar, a first-term Minnesota Democrat, asked Abrams why anyone should trust him given that he pleaded guilty of lying to Congress over his role in the Iran-Contra scandal in the 1980s. He was later pardoned. She also criticized him for calling the Reagan administration's record in El Salvador a "fabulous achievement" after a 1981 massacre in the town of El Mozote by death squads linked to the U.S.-backed government.
"Yes or no: Do you think that massacre was a fabulous achievement?" Omar asked.
"I am not going to respond to that question, I'm sorry," Abrams shot back. "I don't think that entire line of questioning is meant to be a real question."