Venezuela Neighbors Push Back Against Use of Military Force
(Bloomberg) -- A group of Latin American governments said they oppose a military intervention to end the crisis in Venezuela, opening an apparent breach with the U.S., which has declined to rule it out.
The U.S., the Venezuelan opposition and governments from across Latin America and Europe are meeting in Bogota today after a failed attempt to deliver humanitarian aid to the hungry nation led to a weekend of violence on the Colombian-Venezuelan border. President Nicolas Maduro's security forces repelled the food and medicine, saying the initiative was a pretext for invasion.
"We have never contemplated a military solution," Colombian Foreign Minister Carlos Trujillo said in radio interview Monday before he opened a meeting of the Lima Group of nations, which has met since 2017 to address Venezuela's humanitarian and political crises. "All the actions are political and diplomatic, and I say that emphatically, so there's no more speculation on Colombia's position."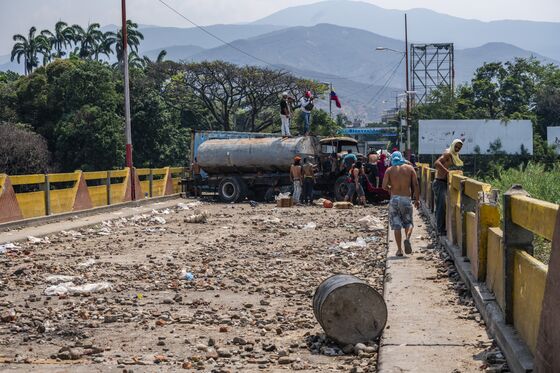 Trujillo's comments were backed by Peru's delegate, Deputy Foreign Minister Hugo de Zela, who said in Bogota that "the use of force isn't a solution." The presidents of Panama and Guatemala also said they favor a peaceful approach based on diplomacy.
Venezuelan National Assembly leader Juan Guaido said in a tweet Feb. 23 that "all options" should be considered to liberate Venezuela, echoing similar comments by U.S. President Donald Trump. The U.S. and more than 50 other governments recognize Guaido as Venezuela's interim president, and are calling for Maduro to step down.
Addressing the Lima Group meeting in Bogota Monday, U.S. Vice President Mike Pence doubled down on the Trump administration's position. "All options are on the table," he said.
Pence called on governments at the meeting to restrict visas for Maduro's inner circle and freeze Venezuela state oil company assets, turning them over to Guaido's government. He said the U.S. will be announcing further sanctions of its own in coming days.
The U.S. imposed financial punishments on Venezuela in 2017, and last month imposed much tougher oil sanctions, effectively depriving the government of a large portion of its revenue. There are also individual sanctions on senior members of the Maduro government.
Marco Rubio, the Republican Senator from Florida who has taken a prominent role pushing for stronger policies from Washington, posted on Twitter pictures of former Panamanian dictator Manuel Noriega, who was removed by a U.S. intervention in 1990, and a bloody picture of Libyan dictator Moammar Qaddafi being lynched, in an apparent threat to Maduro.
The European Union's spokeswoman for foreign affairs told reporters in Brussels on Monday that it wants "a solution that is peaceful and democratic."
Meanwhile, some of the governments who have recognized Guiado as president are coming under growing pressure to explain the legal basis for their decision.
Germany's acceptance of Guaido's claim rests on a "questionable" legal foundation, according to a report produced by parliamentary researchers in Berlin. The Bundestag report says Germany's recognition plunges the government into an unresolved constitutional crisis in Venezuela in contravention of international law -- and upends post-World War II diplomatic protocol of recognizing foreign states, not governments.
In Brazil, the opposition Workers' Party last week said Brazil should refrain from participating in what it called interventionist actions led by the U.S. Citing constitutional principles that prohibit the country's interference in other nation's affairs, party leaders filed petitions for the defense and foreign ministers to testify in Congress on the matter.