Venezuela Boasts World's Best Bonds as Maduro Looks Vulnerable
(Bloomberg) -- Venezuela is back to its winning ways in the bond market after defaulting on some $9 billion in debt over the past year.
The sovereign notes have returned 19 percent to start 2019, more than eight times the emerging-market average, amid speculation that declining support for President Nicolas Maduro may eventually bring about a new government.
While the benchmark bonds still hover at just 27 cents on the dollar, the rally is a stark turnaround from last year, when Venezuela fell off the radar of many developing-nation investors forlorn to the fact that U.S. sanctions all but prohibited them from taking part in a debt restructuring. But as speculation mounts that Maduro could be ousted by a newly emboldened opposition or a military fed up with his mismanagement, bond traders are looking at the distressed debt and seeing opportunity for gains.
"It doesn't take much to move Venezuelan bonds," said Eric Jayaweera, a money manager at Emso Asset Management in New York, who holds the nation's notes. "They benefited from depressed price levels and got further help from the political capital gained by the opposition."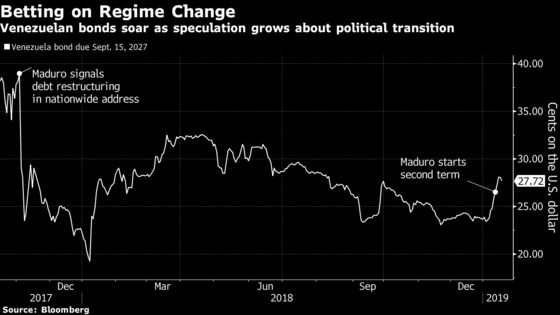 The rally comes after a long period of limbo, with the notes trading in a range for most of last year as bondholders waited for new developments.
That's changed in recent weeks as foreign investors began organizing. They're meeting with the Venezuelan government's legal advisers, while simultaneously strengthening contacts with opposition lawmakers whom they expect to eventually negotiate alongside. Meantime, town halls are popping up across the oil-rich nation in protest of Maduro, and leaders from the U.S. to Brazil and the European Union are directing communications to Juan Guaido, the freshly minted National Assembly president, in a rebuke of what they call Maduro's illegitimate re-election in May.
Still, investors counting on a political transition are betting against history. It's rare for debt defaults and other forms of financial duress to directly cause a change in government. Among the skeptics is Francisco Ghersi, managing director of the Venezuela-dedicated hedge fund Knossos Asset Management. Less than 10 percent of his fund is currently parked in the nation's bonds. Instead, Ghersi said he's added exposure to Ecuador, Argentina and Brazil.
"These guys have too much to lose," he said. "The exit cost is high."
Yet soon, the government may have no choice.
Even if Venezuela continues to skip most of its debt payments, the country will probably have more spending needs than income this year, according to Siobhan Morden, the head of Latin America fixed-income strategy at Nomura in New York. That would drain the coffers that Maduro likely relies on to maintain support from the military, she said.
"They've been cutting their liabilities each year," Morden said. "Last year it was bondholders. Now, it's an even more difficult juncture. There is no further flexibility. If you have no money, how do you stay in power?"