VC-Backed Talkspace Plunges as SPAC Investor Takes the Reins
(Bloomberg) -- Talkspace Inc. sank 36% on Tuesday, the most since merging with a blank check company earlier this year, after its third-quarter report came up short on sales.
The online mental health company has lost almost half its market value over the past two weeks in a rout that deepened Tuesday after it withdrew its guidance and Chief Executive Officer Oren Frank left the company.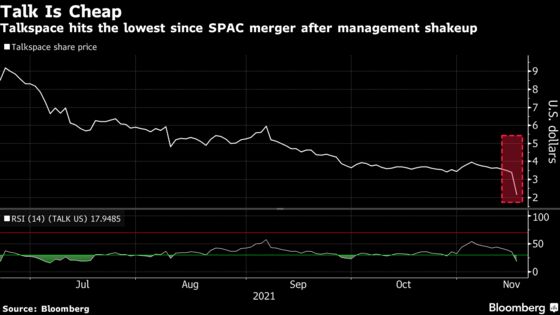 The venture capital-backed firm touted by Michael Phelps and Demi Lovato is now worth about $329 million after going public in a $1.4 billion deal with Hudson Executive Investment Corp., a special purpose acquisition company run by former JPMorgan Chase & Co. executive Doug Braunstein.
Braunstein will take over temporarily as CEO while the board begins a search for a permanent replacement. 
While digital health care drew investor interest early on in the pandemic, the increasing number of competitors has driven down valuations across the space and failed to reward even those with a better execution record than Talkspace.
Three analysts lowered their recommendations on the stock after Monday's earnings report. "Our downgrade comes down to a combination of missteps in both execution and messaging," said Stephanie Davis, an analyst with SVB Leerink who cut her rating to market perform from outperform. Investors are concerned about the company hitting the reset button without tenured management or a clear message, she wrote in a research note.
Two analysts still recommend buying the stock while three rate it a hold. 
Among the company's top investors are Norwest Venture Partners XIII LP, Spark Capital and Braunstein's Hudson Executive Investment Capital.