Vanguard's CIO Compares Global Growth to a Rocky Balboa Fight
(Bloomberg) -- The global economy is in for a challenging year, according to Greg Davis, chief investment officer of Vanguard Group Inc.
Drawing on the movies about fictional boxer Rocky Balboa, Davis said that markets face a tough fight, even if they ultimately ride out the year. The odds of a recession in 2019 have increased to about 35 percent from 30 percent, he said during a speech at the annual Inside ETFs conference in Hollywood, Florida. The chances for a recession next year are 40 percent to 50 percent.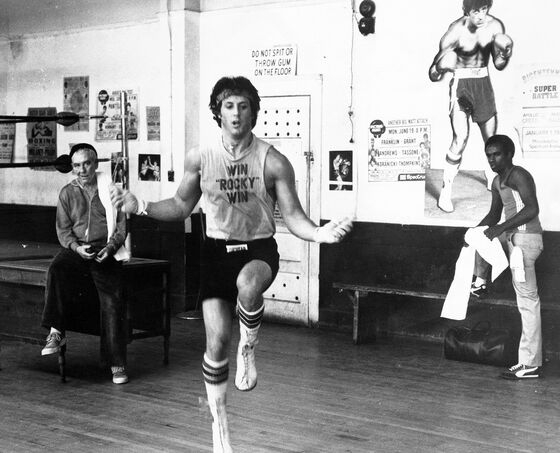 "Even when Rocky wins the fight he takes a pretty ugly beating along the way," Davis said. "His down-but-not-out attitude truly aligns with our U.S. and global economic outlook," he said, adding that the $5 trillion-plus asset manager isn't expecting anything quite as dramatic as a boxing match.
Asset managers had a brutal 2018 -- an experience Davis homed in on -- as volatility spiked and stocks tumbled at year-end. One index of fund companies and custody banks lost 25 percent of its value for the year, according to Vanguard's 2019 outlook.
Among the top questions that Davis said he gets from clients is what's driving that volatility, and how stocks ended up in, or near, a bear market last year. Davis highlighted several drivers of price swings, including the Federal Reserve reaching "an inflection point" on whether to continue raising rates or pause. Higher valuations in credit markets and a projected slowdown in global growth could also contribute to market uncertainty, he said in a press briefing following his talk.
Davis said the solution for investors is to seek out fixed-income securities, which can provide "ballast" to a portfolio.
Vanguard itself has been positioning more defensively on active credit, expecting the yield curve to steepen as the Federal Reserve nears the end of its rate-rising cycle.
A down market may not be a problem for Vanguard's own expansion. The Valley Forge, Pennsylvania-based firm is poised to pass BlackRock Inc. as the world's largest asset manager within the next decade, according to research by Bloomberg Intelligence analysts.
Vanguard already oversees more than $5 trillion, putting it within $1 trillion of BlackRock. It could gain even more quickly if markets decline, catching up with BlackRock in three to four years in a down market, according to the report.