When Betting Against Erdogan Is a Winning Trade
(Bloomberg) -- By betting against the lira in the run-up to Turkish elections last month, Vanguard Asset Management netted one of the top returns among emerging-market bond funds. Money-manager Nick Eisinger sees no reason to switch from his bearish view.
"Maybe there will be some change in policy, but I don't think in emerging markets things change that fast," said Eisinger, who helps oversee $10 billion in developing-nation bonds for the firm from London. "I still feel that the right way to trade Turkey is from the short side. I think their problems are still very large."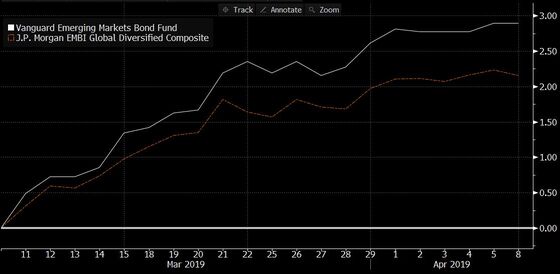 Political risks are back in the spotlight for Turkish markets after the ruling AK Party called for a rerun of the March 31 local election in Istanbul and President Recep Tayyip Erdogan pledged to go ahead with the purchase of a Russian air-defense system over U.S. objections. The headwinds threaten to exacerbate the challenges the Turkish economy faces as it grapples with its first recession in a decade and they mark a shift from when Eisinger was building his short position in the lira options market.
The $5 trillion asset manager, better known for managing index-tracking funds, bought cheap lira put options in mid-March, after months of calm lured investors to the lira's double-digit yield and pushed the currency's implied volatility to the lowest since August. Just days later, the lira suffered its biggest one-day drop since the summer as a surprise drop in central bank reserves caught the market off-guard.
As the sell-off deepened and Vanguard's wager turned in its favor, the firm was able to take larger bets in other emerging markets that were rallying, Eisinger said. Over the past month, his fund returned 2.9 percent, outperforming 96 percent of its peers, according to data compiled by Bloomberg.
"We figured out that something will break," he said. "The currency looked too rich after it had massively rallied and the authorities had been quiet way too long. There was an event in the form of elections; we felt it prudent to be short the currency via options."
After recouping about a third of its value from a low in August, the lira has weakened almost 4 percent against the dollar over the past month, the most among emerging-market currencies tracked by Bloomberg after the Argentine peso. It traded little changed at 5.6907 per dollar as of 12:10 p.m. in Istanbul on Wednesday.
Vanguard's lira position returned "several basis points" of profit at the fund level, said Eisinger, who also bought Turkish government dollar bonds due May 2047 amid the rout. The fund remains cautious on their position in Turkey's shorter-dated debt, he said.
He balanced that out by buying credit default swaps, which widened to as much as 480 basis points last month as investors clamored for protection. An orchestrated liquidity squeeze designed to stand in the way of lira short-sellers before the March vote left foreign traders bruised and forced many to dump their bond and stock holdings instead.
Trading Surges in Turkish Credit Insurance Ahead of Elections
Attention has now turned to Treasury & Finance Minister Berat Albayrak, who will announce a road map for the economy on Wednesday. There's speculation he will take a more tempered approach to policy making in an attempt to lure foreign investors. Turkey needs them to help roll over $177 billion of foreign-currency debt coming due within the next 12 months.