Vanguard Bond ETFs Lose $1.4 Billion as December Buyer Bails
(Bloomberg) -- It's been a painful week for a clutch of exchange-traded funds run by Vanguard Group Inc.
Three of its bond ETFs lost a total of $1.4 billion in a single day as one large trader, Beacon Capital Management, decided to sell. The Vanguard Long-Term Bond ETF, ticker BLV, saw its largest daily outflow on record as over $470 million drained away, data compiled by Bloomberg show. Short-term and intermediate-term debt funds also lost more than $400 million apiece.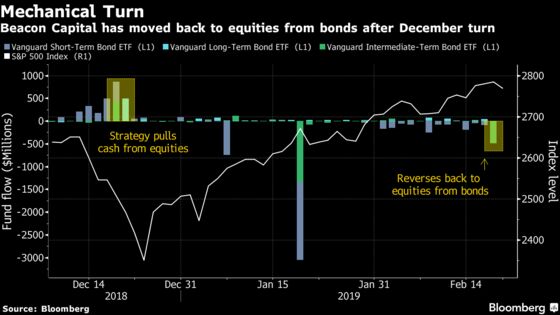 Beacon is shifting back to 11 of Vanguard's sector ETFs after volatility late last year prompted the firm to sell stock funds and hole-up in debt, according to Chris Cook, the firm's president. The firm adheres to a rules-based strategy, and a 10 percent drop in its benchmark spurred the temporary move into debt ETFs, he said.
"We had taken more of a risk-off position in December, and those trades have reversed," Cook said.
More than $1.3 billion of large block trades in the three funds crossed the tape between 10:38 a.m. and 10:46 a.m. in New York on Tuesday, data compiled by Bloomberg show. In addition to BLV, millions of shares traded in the Vanguard Intermediate-Term Bond ETF and the Vanguard Short-Term Bond ETF in a matter of minutes. A spokesman for Vanguard declined to comment.
Beacon isn't the only investor bailing on bonds as stocks rise to an almost three-month high. The $19.6 billion iShares Short Treasury Bond ETF, ticker SHV, bled over $1 billion Thursday, the fund's largest outflow since March 2016. Two trades, totaling 9.4 million shares worth over $1 billion, crossed the tape at 12:46 p.m. in New York. Only Milliman Inc., Transamerica Investment Services and Grupo Financiero Scotiabank Inverlat SA de CV had owned more than 9 million shares, according to their latest government filings.
Officials from Milliman and Scotiabank didn't immediately respond to requests for comment while a representative for Transamerica wasn't immediately able to comment when contacted by phone.