It's Risk-On in Credit as 'Fallen Angel' ETF Sees Record Inflow
(Bloomberg) -- As the hunt for yield picks up, investors are flocking to an exchange-traded fund tracking top-rated bonds that have slumped into junk.
The VanEck Vectors Fallen Angel High Yield Bond ETF, ticker, ANGL, saw a record daily inflow of about $375 million this week, according to data compiled by Bloomberg. That's spurred a jump of almost 30% in its assets to $1.79 billion.
After a decade of rock-bottom interest rates, companies that were once models of financial strength have taken advantage of lower borrowing costs. When they stop creating enough cash to service debt, the result can be a loss of their investment-grade status. Those downgrades usually spark bond selling, pushing their yields higher.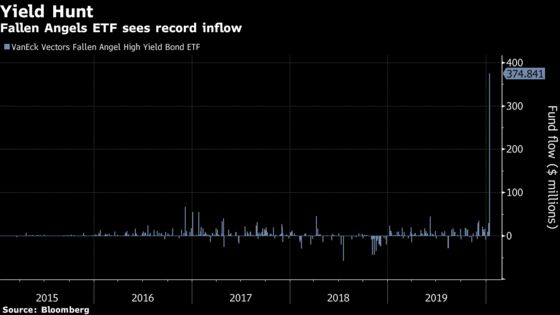 The so-called fallen angels tend to present opportunities once a downgrade cycle has passed as they usually outperform in a recovery, according to Scott Minerd, the chief investment officer of Guggenheim Partners.
"The search for yield continues, so it doesn't surprise me," said Ken Monaghan, co-director of high yield at Amundi Pioneer.
This week alone, two prominent companies lost their investment-grade status: Boeing Co. supplier's Spirit AeroSystems Holdings Inc. and Italian infrastructure group Atlantia SpA.
Following are the fund's biggest holdings as of Jan. 15:
| Name | Ticker | Position | Value (USD) | Change in Position | % of Total Asset Value |
| --- | --- | --- | --- | --- | --- |
| S 6 ⅞ 11/15/28 | EC066567 Corp | 31,548 | 33.3 million | 0 | 2.4 |
| VOD 7 04/04/79 | AX916964 Corp | 25,526 | 30.2 million | 0 | 2.2 |
| S 8 ¾ 03/15/32 | EC600408 Corp | 25,506 | 30.1 million | 0 | 2.2 |
| ISPIM 5.017 06/26/24 | EK345032 Corp | 25,421 | 26.7 million | 0 | 1.9 |
| NWL 4.2 04/01/26 | JK529756 Corp | 25,455 | 26.6 million | 0 | 1.9 |
| FCX 3 ⅞ 03/15/23 | EJ826130 Corp | 24,463 | 25.2 million | 0 | 1.8 |
| FCX 5.45 03/15/43 | EJ826088 Corp | 23,724 | 25.1 million | 0 | 1.8 |
| FCX 3.55 03/01/22 | EJ018963 Corp | 23,907 | 24.4 million | 0 | 1.7 |
| CTL 7.995 06/01/36 | EF420256 Corp | 18,923 | 20.6 million | 0 | 1.5 |
| GS 6.345 02/15/34 | ED332400 Corp | 14,916 | 19.7 million | 0 | 1.4 |