Value Quants Stymied Again as Momentum and Growth Stocks Rally
(Bloomberg) -- Another rotation to value has been snuffed out.
Bets that the market's winners will keep winning and that quickly-expanding firms will outperform are once again trouncing a market-neutral portfolio that effectively buys inexpensive stocks and shorts pricier ones.
The U.S. momentum and growth factors are at multi-year highs relative to value after lagging for a small stretch in mid-September.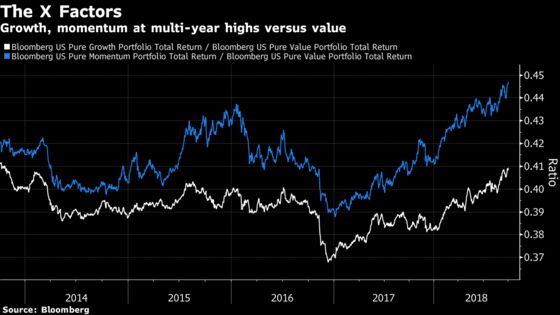 Momentum has beaten value by the most since 2009, while growth is nearing a five-year high. The momentum portfolio currently owns the likes of Advanced Micro Devices Inc. and Bausch Health Companies Inc. (formerly Valeant), while growth holds Baker Hughes and Amazon.com Inc.
And they aren't even the most popular factors recently, with a defensive-tilt pushing investors toward quality stocks.