Value-Growth Gap Signals Lower Returns Ahead, JPMorgan AM Says
(Bloomberg) -- The current complacency over the valuation gap between growth and value stocks is a bad omen for future equity returns, according to JPMorgan Asset Management.
The difference between the two is more extended than either during the global financial crisis or the dotcom bubble, which should sound alarm bells, said Malcolm Smith, head of international equities at JPMorgan Asset Management, in an interview in Hong Kong last week.
"If you ignore valuations, you do that at your peril," he said. "It's very unlikely that the equity returns of the last five years will be repeated in the next five years."
The valuation gap between the MSCI World Growth Index and its value counterpart reached the highest since 2001 this year, on a forward price-earnings ratio basis. Global growth shares are trading at 17.9 times projected 12-month earnings versus 12.9 times for value stocks, according to data compiled by Bloomberg.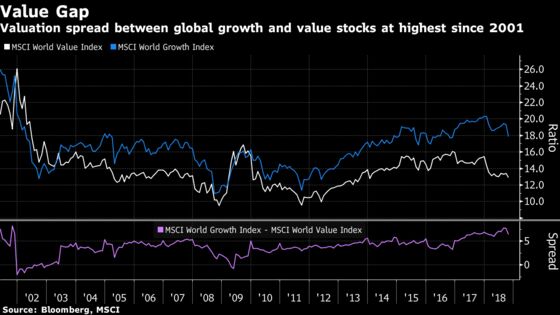 Led by the so-called FAANG stocks -- the group of technology stocks consisting of Facebook Inc., Apple Inc., Amazon.com Inc., Netflix Inc., and Google parent Alphabet Inc. -- fast-growing companies have outpaced other stocks globally during the past year.
The MSCI World Growth Index has risen 1.2 percent in 2018, compared with a 5.4 percent decline in the MSCI World Value Index.
According to Smith, the likelihood of this outperformance continuing has fallen, as their valuations have climbed.
"When valuations go out the window, that's a tipping point and one of the things people look for," he said. "The opportunities for growth have been narrowing if you care about valuations."
Smith said he has taken advantage of the recent market volatility to add to existing positions in European banks and automakers, as well as Japanese industrials and exporters. He recommends an underweight position in utilities shares.