Value ETF Bleeds Cash as Investors Prepare for Bank Earnings
(Bloomberg) -- Exchange-traded fund buyers are turning away from value stocks now that bank earnings season is underway.
Investors pulled $754 million from the $38 billion iShares Russell 1000 Value ETF, or IWD, last week, its largest weekly outflow in a year, data compiled by Bloomberg show. Almost 20 percent of the fund, which is the second largest tracking value stocks, is in banks and insurance, with another 5 percent dedicated to real estate investment trusts. That leaves it uniquely exposed to earnings surprises from financial firms as well as interest rate risks.
"Value was the strong factor in the fourth quarter in terms of flows," said Todd Rosenbluth, director of ETF research at CFRA Research. "It's natural that there's a rotation away from that factor, which is heavily weighted toward financials."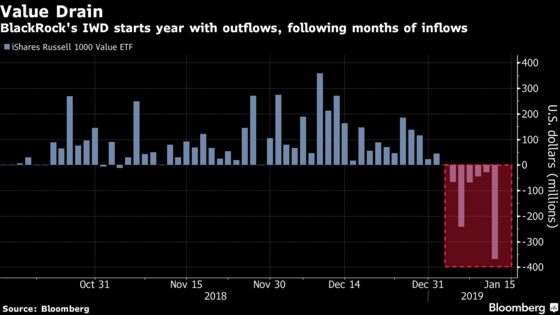 Rosenbluth said investors are rotating out of value and into quality as fears of a slowing economy are hurting investor sentiment at the start of the year.
Citigroup Inc. kicked off earnings for the banks Monday morning, missing estimates for its fixed-income trading revenue. But its stock gained after Chief Financial Officer John Gerspach said the trading environment was starting to improve this month. Investors are eagerly awaiting for results from JP Morgan Chase & Co., the second largest holding in IWD, which will report its fourth quarter results Tuesday.
Some investors see an uptick in value coming, but the question is when? Wells Fargo analysts Christopher Harvey and Anna Han expect to see it some time in the first half of the year.
"From the current valuation spread, history has indicated a value bottom is 3-6 months away," the two wrote in a note Wednesday. "The pain isn't likely over just yet for value-oriented PMs, but it seems we're at the beginning of the end."