Vale Signs First Major Cobalt Deal in Benchmark for Battery Boom
(Bloomberg) -- Vale SA reached agreements to sell future cobalt production in what may set a benchmark for automakers, battery makers and tech companies looking to secure long-term supplies of the metal.
A $690 million upfront payment is one of the largest ever cobalt streaming arrangements and the first large-scale, long-term deal to be signed since expectations of an electric-vehicle revolution triggered a battery commodity boom. It will help pay for an expansion announced earlier Monday at the Voisey's Bay nickel complex in Canada.
The deal includes $390 million from Wheaton Precious Metals Corp. and $300 million from Cobalt 27 Capital Corp., the companies said in statements Monday. Vale will "sell an aggregate total of 75 percent cobalt stream," with deliveries to begin January 2021.
Vale had been looking for financing to extend the life of the mine by transiting to underground from open-pit operations and had said cobalt streaming was among options.
In streaming, an investor provides upfront funding to miners in exchange for a share of their future output. Historically, they have tended to be for precious metals like gold and silver, but the boom in cobalt prices has added a new commodity to the mix.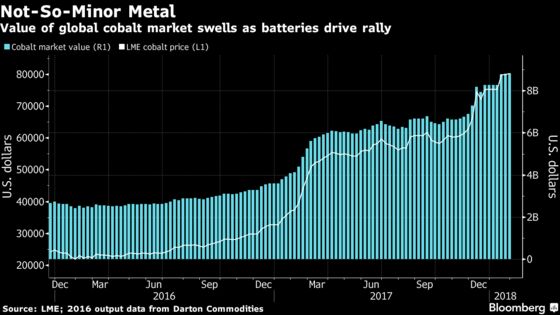 "We're pretty excited about the deal," Wheaton Chief Executive Officer Randy Smallwood said by telephone. "We know there was more than us in the space but it got narrowed down to the two of us pretty quick."
The stream is expected to increase Wheaton's operating cashflow by more than 10 percent starting in 2021, he said.
Wheaton still has "lots of firepower" for additional streaming transactions and expects to announce a precious metals deal of between $300 million and $500 million in the next few months, he said.