Vale Is Close to Approving $1 Billion Copper Expansion
(Bloomberg) -- Vale SA, flush with cash from its booming iron-ore sales to China, is expected to approve a $1 billion expansion of a Brazilian copper mine later this month, according to a person with knowledge of the matter.
Building out the Salobo mine -- known as the Salobo 3 project -- would likely take about three years to complete and add about 50,000 tons to capacity at the mine in Para state, the person said, asking to remain anonymous because the talks are confidential. Salobo currently produces about 200,000 tons of copper a year.
The plan by the world's largest iron-ore producer to invest in the new copper project comes as global copper stockpiles fall, while there has been growing consensus the copper market will be in deficit next year.
Rio de Janeiro-based Vale continues to reap the rewards of China's surging demand for its low-cost, higher quality iron ore. At the same time, Vale is producing at record levels, while the depreciation of the Brazilian real is bolstering the company's earnings. Vale's success has allowed it to slash debt, increase dividends and use free cash to buy back shares.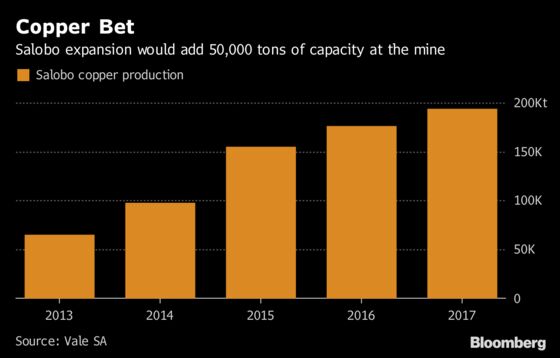 At the end of August, Vale Chief Financial Officer Luciano Siani Pires said the company was planning to make a new copper announcement. In early September, BTG Pactual SA analyst Leonardo Correa said Salobo 3 would cost Vale about $400 million, while $600 million could be funded by Wheaton Precious Metals Corp.; the Canadian streaming company has rights to a majority of Salobo's gold, which is mined as a byproduct. Vale "lacks material growth opportunities, although there are several smaller projects that could be approved," Correa wrote at the time, citing Salobo 3.
Vale declined to comment on Tuesday, while Wheaton said it would "welcome the opportunity to make an additional investment into an asset as high caliber as Salobo."
"Any payment that we make to Vale is dependent on the scale and the timing of the expansion, and is only payable once the expansion is complete and up and running," Wheaton Chief Executive Officer Randy Smallwood said in an emailed statement.
A week ago a local Brazilian newspaper reported Vale representatives met with officials in Para state, where Vale's Amazon mining operations are located, and said the Salobo expansion could generate as many as 3,000 jobs.
Vale's shares fell 0.3 percent to 61.01 reais as of 10:54 a.m. on Wednesday in Sao Paulo.